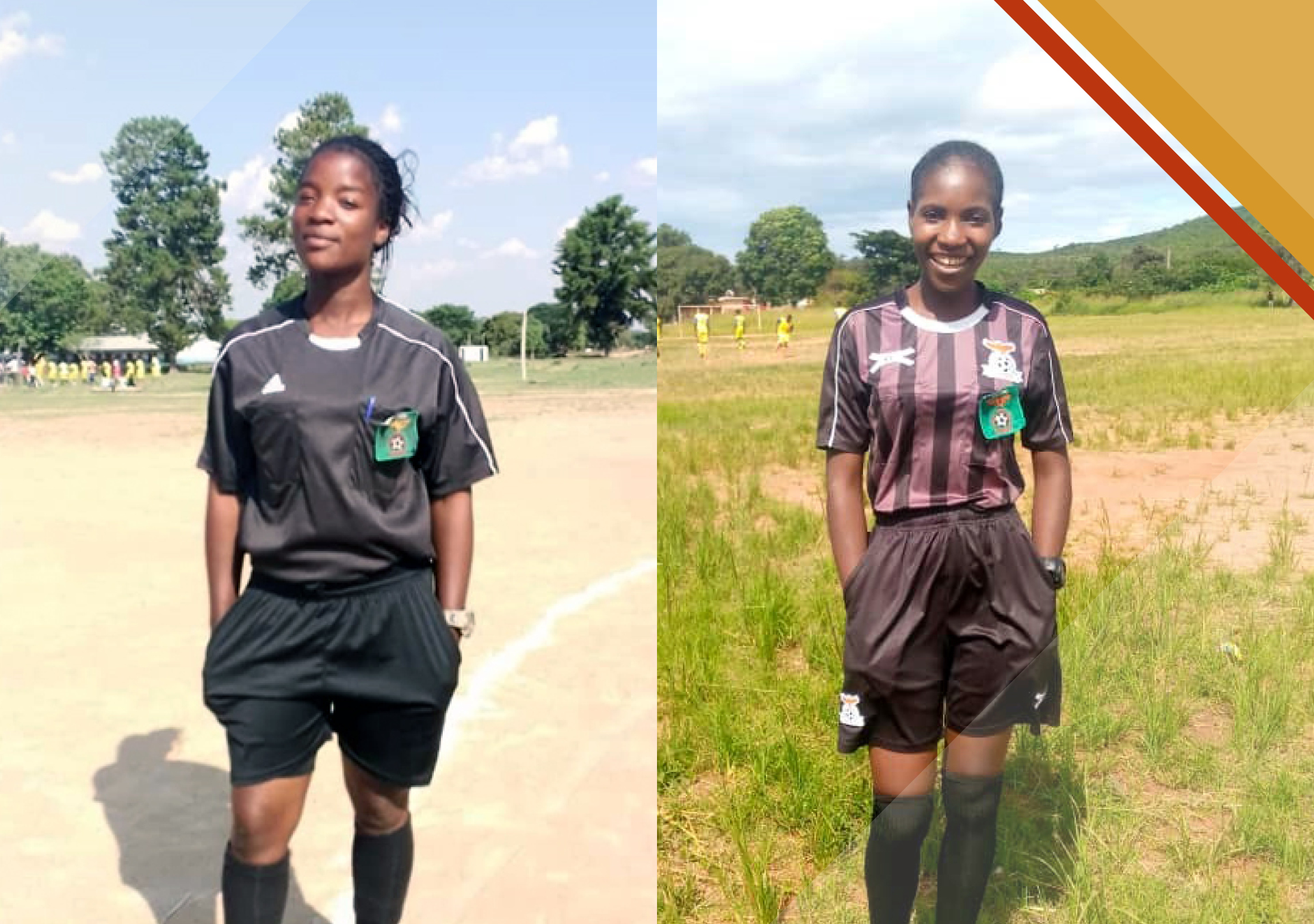 These soccer stars are changing the game for women in Zambia
Meet our sisters who are excelling in sports and striving for gender equality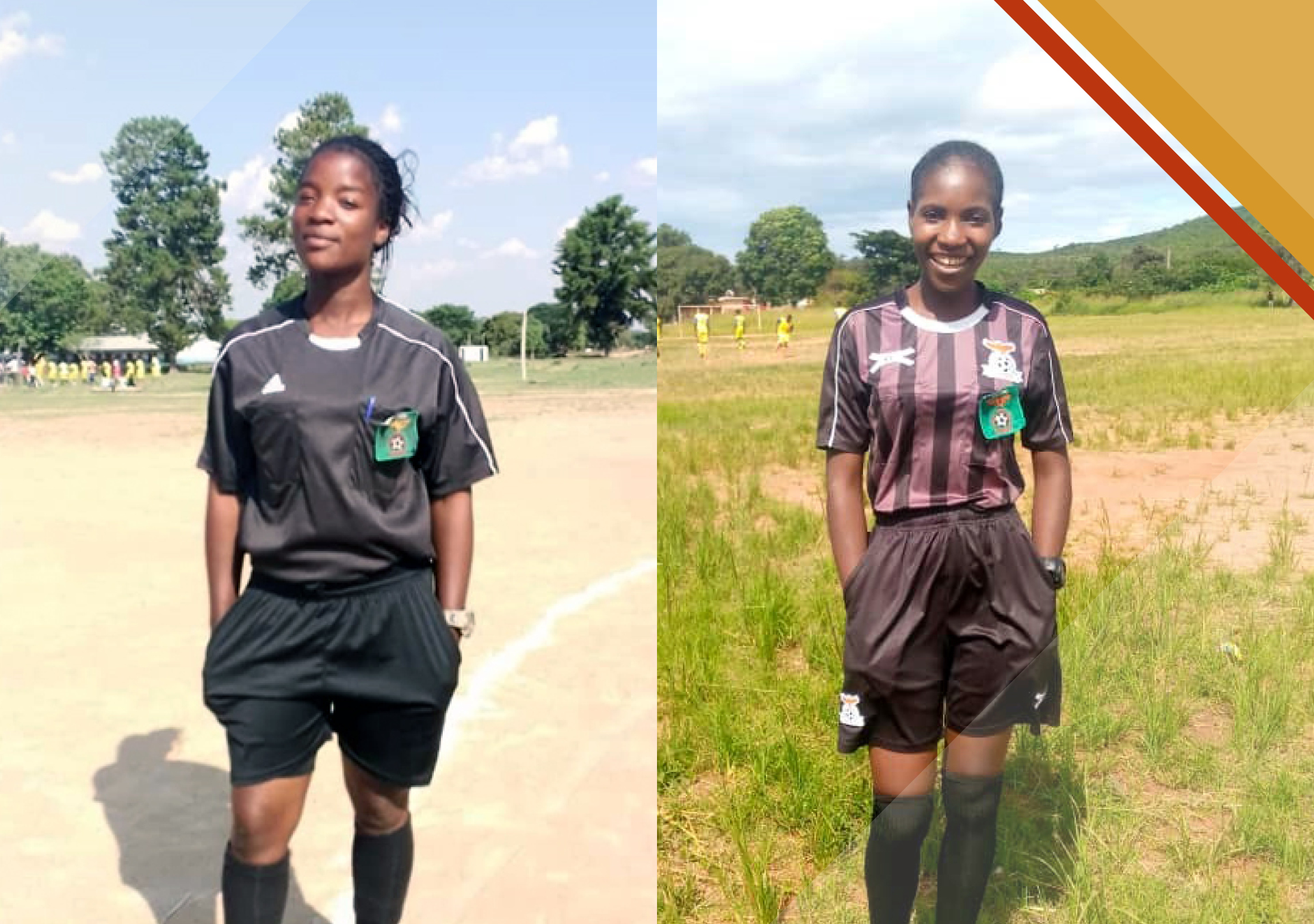 Hear from our sports game changers! Memory and Abigail are two of our unstoppable sisters in the CAMFED Association, who are changing the narrative for women on and off the pitch, as qualified soccer (football) referees in Zambia.
As a champion of CAMFED's work, you are supporting girls in school and young women in our sisterhood of graduates to uncover their talents and blaze a trail for others—helping overcome gender stereotypes and shift mindsets.
Memory
"Through my work as a referee and community soccer coach, I encourage girls pursuing their passion for sports to remain focused and never stop believing in themselves."
Memory has not let poverty or gender stereotypes get in her way of qualifying as a professional soccer referee. Playing for local team the 'Serenje Queens,' she enjoys the fitness benefits sport brings, and likes connecting with people from all different backgrounds through a shared interest. Memory officiates both men's and women's games, and aims to qualify to referee Premier League and National League soccer. 
Memory joined the CAMFED Association — the network of educated young women leading action for girls' education — after hearing about the network's philanthropic efforts. Memory always wanted to give back to her community and help children cultivate their talents. Today she's doing just that, by volunteering as a Learner Guide in her local school to help children thrive in education, and inspiring other women to take up sports and not be afraid to pursue male-dominated jobs. 
Read Memory's story
I will continue to champion girls' education and their participation in sports, so they can fulfill their potential as leaders of change and make decisions that benefit themselves, their families, and their communities.
Memory
Abigail
"I believe that women can do everything that men can, so I advocate for gender equality and tell myself to forge ahead so other young women may follow my path. I can see that attitudes are changing as more women like me become referees."
Abigail, from Zambia, is a professional referee for the men's and women's soccer teams in Mpika District. She loves the pressure and action of the game, and credits soccer with boosting her confidence and leadership skills.  
Succeeding in this traditionally male-dominated field has not been easy, but a fellow CAMFED Association member has supported her with advice and encouragement along the way. Abigail campaigns for gender equality and encourages other young women to challenge gender norms through sport.  
Abigail volunteers as a Learner Guide in her local primary school, mentoring vulnerable students, and is a proud member of the CAMFED Association — educated women dedicated to breaking the cycle of poverty and lifting each other as they rise. 
Read Abigail's story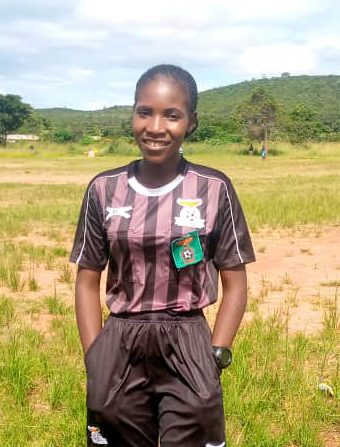 I urge a sister who wants to enter into a male-dominated field like mine, to stay focused, to work hard and don't listen to criticism. It may be difficult, but if your passion is to be a female referee, don't give up and never stop dreaming.
Abigail
Lifting others as they rise
Together with their sisters in the CAMFED Association, Memory and Abigail are supporting marginalized children through school, and encouraging girls to believe in themselves and follow their passions. As role models in their communities, they're paving the way for more female athletes from disadvantaged backgrounds to boldly step into leadership roles and apply for traditionally male dominated jobs.