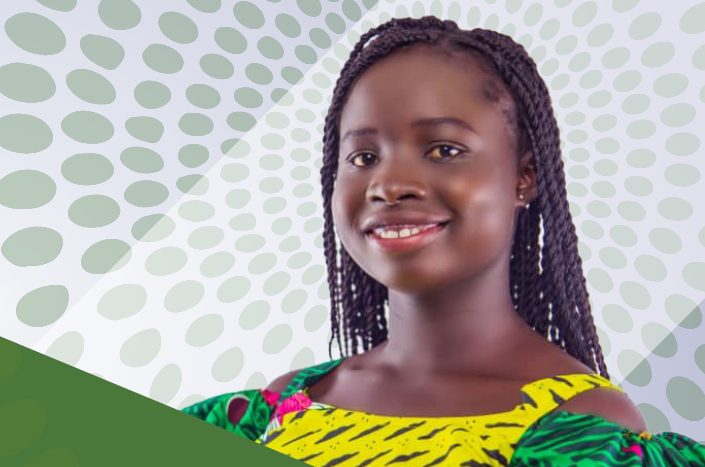 Olivia
CAMFED Association agricultural entrepreneur, Ghana
I was born in a village and grew up with my mum, dad and five siblings. I am the first born. My dad is a teacher and my mum was into farming. They value education and would do everything they could to support us in school, but we faced growing challenges. When I was approaching Junior High School, my father stopped receiving payment at work.
I started doing some manual labor to help pay my school fees, and raised enough money to continue. When I was selected for CAMFED support in Senior High School I could leave those days behind. I worked really hard and became the girls' prefect, and head of the civic education and debating club. In 2016, I was named the best female student in school.
I was also part of a club where a CAMFED Association member mentored us. She told us about the opportunity to go to university as Mastercard Foundation Scholars at CAMFED Ghana. I was dying to get the place — and, after submitting the forms and attending an interview, I learned that I'd secured it! Now I am a graduate of the University of Development Studies with a degree in Biochemistry.
Alongside my studies, I started an organic vegetable farm in 2018 in response to several challenges I had noticed in my community. Many of the farms in northern Ghana do not harvest produce outside the rainy season; this means that vegetables become more expensive as they have to be transported from the south. It also means that there are fewer job opportunities. People often migrate looking for work and once in urban centres — the girls and young women in particular — are vulnerable to exploitation.
I'm working to solve those challenges through my business, Kobaa Farms. The plot is situated near a dam, so we have dug wells by hand, which we use to irrigate the crops, allowing us to be productive all year round. We also use tanks to harvest rainwater. I do not want to rely on conventional fuel-powered irrigation and am instead working towards installing a solar irrigation system.
Using these sustainable technologies I know we can remain really productive: We grow cabbages, green peppers, carrots, chillies, tomatoes and cucumbers. At the moment I have 36 employees, mostly women, who do work including transplanting and harvesting.
In 2020 I was excited to be recognized with two awards for my farming business – The Viewers' Choice Award from the Anzisha Prize, and Best Female Agripreneur from the Thought For Food Awards.
In my local language Kobaa means farming for good, farming to develop a community.
Kobaa Farms supplies three hotels, four restaurants, and several household customers. They favor us because of the freshness of the vegetables and also because we deliver straight to the door, saving them a trip to the market. I won the business from the hotels and restaurants simply by going there and introducing myself and my produce. They were so excited to meet a female graduate who is leading in agriculture!
My advice to other young women entrepreneurs is to pursue your dream with all your heart, with passion, and with willingness to learn.
I also work with other members of the CAMFED Association in our shared commitment to community give-back. During the COVID-19 pandemic we have been reaching out to girls and families with sessions on sexual and reproductive health, staying safe during school closures, and guidance on coronavirus prevention. We have also been donating essentials including soap and sanitary pads, and I have been giving produce like peppers and cabbages from my farm to local families who are in need.
In future I'm hoping to expand my business into organic waste management — collecting the vegetable waste from my customers and using it to create compost for the farm. Soon, I hope I will have one of the most successful vegetable farms in Upper West Ghana!