#SeeGrowth with the CAMFED Garden at the Chelsea Flower Show
The Campaign for Female Education (CAMFED) today launched #SeeGrowth, an ambitious campaign that aims to raise funds to support women-led, climate smart agricultural businesses across Africa.
Investing in the next generation of female agripreneurs is a proven way to foster healthier, wealthier communities and build resilience to climate change. The campaign will flourish together with CAMFED's first ever Garden, which will be unveiled at the RHS Chelsea Flower Show (21-25 May) and will live on at The Eden Project.
#SeeGrowth challenges our partners and supporters to see beyond the potential of an individual seed, garden and young woman, to the growth of a broader movement that improves productivity and nutrition, creates jobs and prosperity, and mitigates climate change. Together with our CAMFED alumnae association, CAMA, we are working to support more young women school graduates by providing access to new crops, technologies and climate-smart techniques, helping them to grow sustainable farming businesses and transform their communities.
In designing the CAMFED Garden, Jilayne Rickards took direct inspiration from CAMA member and successful entrepreneur Beauty from rural Zimbabwe. Beauty grows fortified crops to provide better nutrition, offers her farm as a teaching resource, and donates her produce and proceeds to ensure more children can remain in education.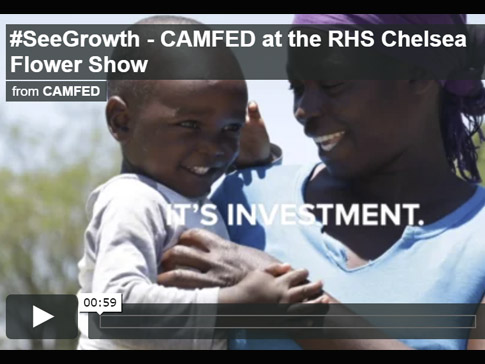 Watch our #SeeGrowth video and learn more about the campaign.