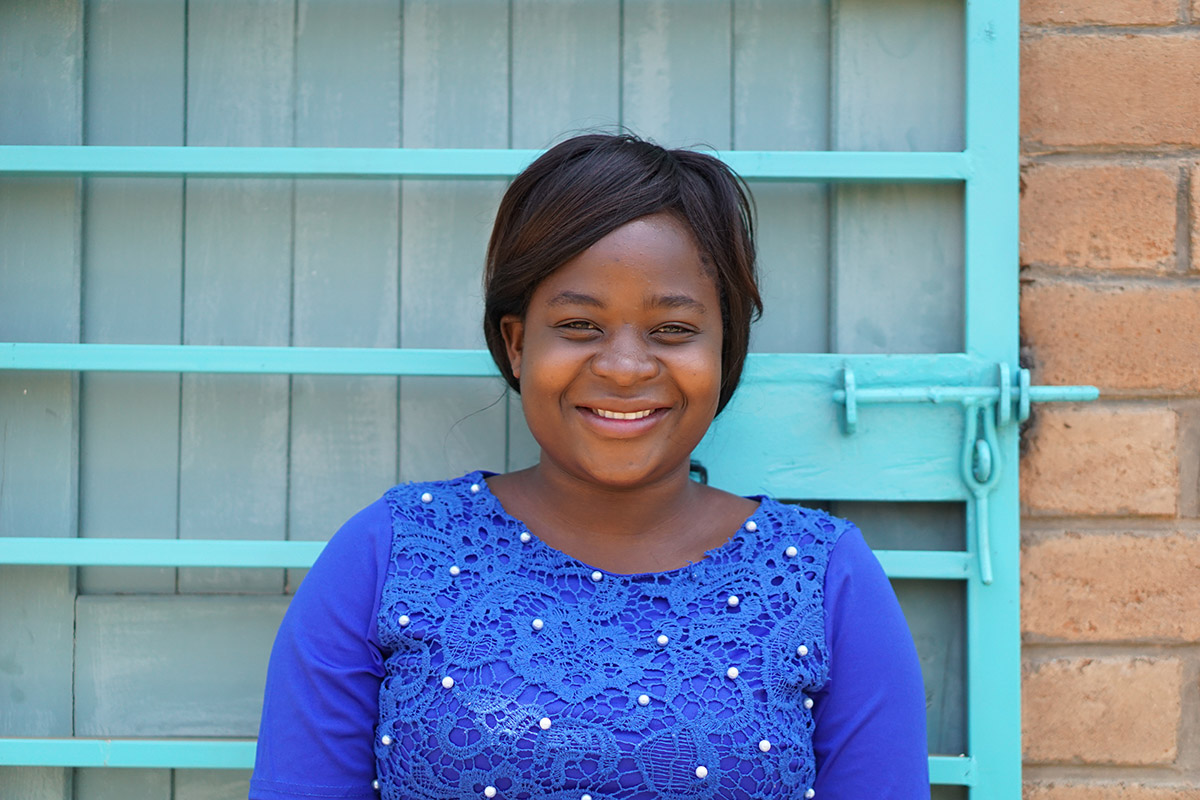 Idess
CAMFED Association member and Learner Guide
I am the last born of five children from the rural-based, low-earning family of my father and mother. During my school time I used to wake up early in the morning and go to the farm with my family because my parents solely depended on farming to feed us. Afterward I would do my household chores and then prepare for school. This meant me going to school while already tired and struggling to concentrate in class, but farming was important for the family so I could not be exempted.
There were a number of other challenges to my education including lack of food, school fees, and good clothes to wear. Also during this time a lot of boys and men were proposing to marry me, promising to take good care of me, but I stood strong.
Poverty is such a challenge. Sometimes parents, though they wish the best for their children, are left with no option but to allow marriages with the hope that the man will take good care of their daughters, while at the same time relieving a family from the burden of raising them.
When I found out that I would receive support from CAMFED, I was so excited and happy because I knew that all problems concerning my school fees, notebooks, uniforms, and more had ended. I took it as an opportunity to work hard and finish my school.
CAMFED support also rescued me from going to the farm with my family in the morning because my parents felt relieved that at least the burden of raising school fees for me had been taken off their shoulders. Besides, they wanted me to focus at school so that I could finish and achieve my dreams, as well as not to disappoint our helpers so that they would continue helping other needy girls like me.
With education, girls lead change starting from family to community level. We are the ones that are leading change in our community right now!
After school I joined the CAMFED Association, the network of women leaders educated with CAMFED support. I took part in training and became a Learner Guide (a role model and mentor to girls still in school) in December 2019. Later, I was chosen by my peers to serve as the national treasurer for the CAMFED Association in Malawi.
Together, we do a lot of activities to support the next generation of children and to highlight the importance of education to everyone. They include conducting philanthropic outreach, offering counselling and guidance, convening community meetings, going on home visits to encourage parents to keep their children in school, and running 'Back to School' campaigns.
Education has helped us find our voice. We are recognized and respected in our community, so we can contribute to decisions.
Learner Guides build even further on this work to deliver sexual and reproductive health and My Better World book sessions to learners. These give them skills on how to resist negative peer pressure, build life skills, set goals, be assertive, and know how they can overcome daily challenges, among other things.
Unfortunately the COVID-19 pandemic led to an increase in child marriages in our community, especially when the schools were closed for a longer period of time and girls no longer had the support structures that education connects them to. Learner Guides were really important during this period and beyond. We counsel the girls and talk to their parents to help them understand the benefits of sending the girls to school and also the challenges girls face when they marry early. We also work hand-in-hand with other structures such as CAMFED Mother Support Groups and community-based child protection workers.
I met a girl who got pregnant when COVID-19 came and so I assisted her with guidance and counselling. After she delivered her baby, I provided her with scholastic materials so she could return to school.
We are the gamechangers in our community! We are leading the change, not just by words but practically!
In addition to working with CAMFED, I am a farmer. I have crop fields and I keep livestock. In return for volunteering as a Learner Guide, I was able to access an interest-free loan through CAMFED's partner Kiva, which I invested in my agribusiness. Each day I sell milk from my cow at a cooperative in my community. After feeling the effects of erratic rains, I started to focus on growing crops like legumes, which do not require fertilizers and can survive even with minimal rains.
Climate change seems to be leaving my community with low yields every year. It's either that there are no rains, little rains, or too much rain at the wrong time! Climate change is real! It is impacting my business. Like others, I don't always get a good harvest from my farming, but I am better off because I diversify. I am now into legumes and I have a back-up from the livestock which I rear. When my family has little harvest I support them, so part of the profits from my business goes to them and to others, and I am happy about it.
I have advised my community to consider diversification, planting of legumes and potatoes, so they are not reliant on maize alone. I am looking forward to meeting the CAMFED Agriculture Guides to learn more climate-smart techniques, as well as to link up with agriculture experts through them. I am hoping that the knowledge will be helpful to my community. I am so happy about the program and I am looking forward to their visit.
With the profits from my business I take good care of myself and my child. My child is healthy and I am set to give him a good education. I also support my dad, mom and siblings, as well as supporting other family members and needy children. I am supporting a learner at a boarding secondary school with groceries and uniform, and I buy one-off small small items like notebooks, pencils, and soap, to cover immediate needs of other students, especially at the beginning of the term.
I am respected, I am considered as a role model, and I inspire others. I am free to make decisions about my life.
The advice I would give to other women starting out in business is that they should not focus on the capital, but focus on the goal. I started small but I have grown now. So I would say: 'Be yourself, work hard, and let no one pull you back!'
In future I hope to become a large-scale farmer who can supply direct to companies. I would like to learn more about climate-smart agriculture to ensure food security at every household level. Together with other CAMFED Association members, I hope to start a cooperative where we can add value to our surplus crops, export or sell them to big companies, and improve our economic status.
Sisterhood is when girls and women come together to share ideas and help each other to improve their lives and that of their community.