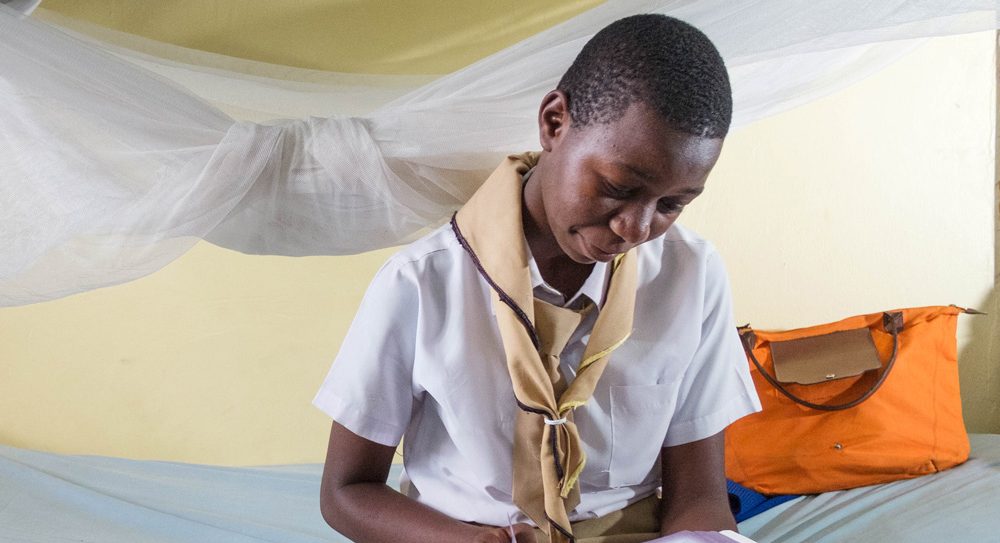 Catherine
Secondary Scholar, Tanzania
Catherine's father passed away when she was in her first year of primary school. Her widowed mother, who lost all property to her husband's family, was left with three children to support. Catherine would help her mother to sell food at the side of the road when she was not in school. She had no exercise books, and worried about her education.
"I was stressing about my education. I would see other children studying and all the time I would just look at their exercise books and try to learn," Catherine remembers. She passed her primary school exams, but there was no money for her to attend secondary school, which was too far away from where her mother tried to eke out a living for the family.
I was imagining my future as going into a big hole where no one could help me. A girl without education is nothing in the world. Education is everything.
That's when a CAMFED-trained Teacher Mentor, Madame Ngereza, stepped in.  She had brought Catherine's case to the attention of the Community Development Committee she works with, and Catherine was selected for CAMFED support. Catherine stays in the dormitory of the rural secondary school where Madame Ngereza teaches. Catherine thinks the world of her Teacher Mentor. "She tells me, 'if you don't understand something, come to me. Even the personal problems, I will help you, I will know how to help you."
Catherine is extremely proud to be one of the best students in the whole school. As Head Girl, she is paying forward the support she has received by looking after the welfare of girls, and advising those with personal problems. "Sometimes it is boy issues.  They don't know what to do, they come to me. Also I bridge the gap between the girls, the student government, and the school administration. I make sure that what matters to students is presented well to the school administration." 
I promised myself one day I could stand for the right of the girl, I could stand as a doctor, I could stand as a person in front of the majority and express the feelings of girls – I could act as a role model for other girls.
Catherine has noticed that in most of the hospitals in Tanzania, the doctors are male. She wants to be a doctor to help people, to show that women can do anything, and to bring equality to medicine. "This comes from my heart – when I go to the hospital and I see how well the doctors treat the people. I think being a woman doctor, it would make something like equality."