Bridget is a determined young woman who has overcome significant challenges in her path to university education. Bridget's father had five wives and he struggled to provide for his large family. When Bridget's father died the few belongings remaining were shared out between the first wives and Bridget and her mother were left with nothing.
My mother gave me all the moral support she could, but she could not support me economically to continue with primary school and I dropped out in grade 4. I continued to go to school but would get chased away because I couldn't pay my school fees.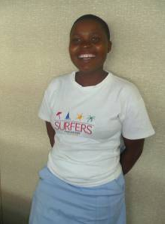 Bridget's uncle stepped in to provide support but once she had completed primary school the support stopped. Bridget was born into the Apostolic faith and her particular church does not encourage girls' education beyond primary school: "I grew up in a family where every decision is shaped by our church. At the age of 13 they believe a girl child must get married and leave school." Having reached that age, this is when Bridget's uncle withdrew support.
Bridget's mother began buying and selling in Harare, building up a small business, the small profits of which she was hoping to use to support Bridget in school. But the stall was swept away during a government crackdown on the country's slums and the family were once again left with nothing. "I began to lose hope and I cried. When my friends started at secondary school I followed them even though I had not paid any fees – I just wanted to see what it would be like to be at secondary school. I had no shoes or uniform but I was so curious."
It was at this point that Bridget was selected to receive bursary support from CAMFED. "My mother and I were so, so happy! The support inspired me to work hard – if you go to my secondary school they will certainly remember me as I was so serious about my school work!" The majority of Bridget's female classmates dropped out before completion but Bridget managed to successfully graduate and gained a place at Harare Women's University to pursue a BSc in Business Management and Entrepreneurial Skills. "If I imagine where I came from I never had hope that I would manage to get to this level of education".
Bridget has faced ongoing pressures from some members of her family and church to leave education. "My sect did not see the benefits of sending girls to school but I am proving that it is a good thing. I am fighting hard to challenge the convention. I want to hold an influential position in my community so that people will get to know and understand that women can do it, especially with education." Bridget's aim is that, through her example, her church will see the positive effects of girls' education and that more girls from her community will be sent to school as a result.
Bridget recalls how inspiring she found the Cama members who visited and provided support and encouragement when she was in school. Now a Cama member herself, Bridget is a valuable role model to the community in which she grew up. She recently visited a secondary school in Wedza to talk to the girls about how important it is for them to try their best in their education.
"I have lots to say, especially to the girls coming from such poor backgrounds like my own, to encourage them to take their studies seriously and to give it their undivided commitment…Nothing is impossible when given the opportunity to go to school, even becoming a president."
"If you are educated then you really inspire the young ones in the community. My sisters also want to reach the highest levels of education now. I have a passion to inspire all the girls in Zimbabwe. I am striving to make a difference. Even in the most remote areas I want to tell them that you can be someone and be productive if you get an education. "
"Vision without action is merely a dream and action without vision just passes time. Vision with action however, can change the world. CAMFED has enabled us to have a vision through education and has enabled us to put it into action through the provision of resources."