Al Jazeera Documentary Features CAMA's Change Makers
In its latest compelling TV documentary series, Al Jazeera looks at why reinforcing gender equality and empowering women is not just a women's issue, but a global cause with huge social and economic benefits – and the most effective way of eradicating extreme poverty.
The producers chose Camfed Ghana's Executive Director Dolores Dickson; Nimatu, a Camfed scholar; and alumna Zeinab, a leader in the CAMA network and a Learner Guide, to showcase the programs which are supporting girls' education and empowering young women in Ghana's impoverished Northern Region.
The documentary Going Places: Girls' Education in Ghana was first aired on 31 October on Al Jazeera English, as part of a series of six 24-minute films on women from the developing world called "Women Make Change." The film captures the barriers faced by girls growing up in poor communities in northern Ghana where acute poverty and early marriage puts them at the highest risk of dropping out of school. Interweaving the stories of Zeinab and Nimatu, two young women supported through school by Camfed, the documentary shows how the empowerment of girls through education is transforming communities across sub-Saharan Africa. On finishing secondary school, Camfed's clients become members of CAMA, Camfed's powerful alumnae network, through which they have an opportunity to access training in areas such as teaching and financial literacy in order to provide a range of services to local communities.
The sixth of seven children, 18-year-old Nimatu is the only girl in her family on course to complete her secondary education. Her father is unemployed and so her mother is the main breadwinner in the household. Two years ago, Nimatu's family fell into desperate financial straits following an accident which forced her mother to abandon her work as a trader. No longer able to afford her daughter's school fees, Nimatu's education was thrown into jeopardy. Being selected for a Camfed bursary was therefore an answer to prayers, she says. She is determined to finish school in order to support her family. "It will prove that someone has succeeded in our family," she says.
A Model of Perseverance
We follow Nimatu as she starts her day at 4.30 am, sweeping the house and preparing porridge before leaving for school. In spite of the weariness she often feels, Nimatu's zeal for education and will to succeed spur her on. She will not give up until she achieves her goal of becoming a teacher. In this way, she hopes to encourage other girls in her community to persevere with their education.
One year her senior, Zeinab works as a Learner Guide at Nimatu's school. The two young women share a background of poverty and a determination that this will not hold them back. Following her father's death in 2007, a shadow was cast over Zeinab's hopes of completing school as her mother struggled to make ends meet. The cost of her school fees, uniform, books and other essentials were beyond her mother's reach. Thus, Zeinab says the day she received news that she had been awarded a Camfed bursary was the best moment of her life. She recalls, "I felt special. I felt I wasn't left behind."
Giving Back as a Learner Guide
Upon finishing secondary school, Zeinab trained to become a Learner Guide, returning to a local school to support Nimatu and other vulnerable students. We see her in action as she teaches the 'My Better World' curriculum, a uniquely tailored life skills and wellbeing program designed to transform young people's prospects after school. Leading us into a Learner Guide training course, Dolores Dickson says that the program gives school leavers an opportunity both to grow personally and give back to their communities. By creating different pathways for school leavers, Camfed is accelerating the multiplier effect of education so that whole communities can reap the rewards.
As district chair of CAMA, the Camfed alumnae network, Zeinab has already made a significant contribution to her community. Through participation in the Learner Guide training and other CAMA-run programs, she says her self confidence has grown immeasurably. Selected for the Young African Leadership Initiative, a flagship program launched by President Obama to support outstanding young leaders from sub-Saharan Africa, Zeinab is now preparing for what she considers 'the biggest opportunity in [her] life' to progress her education. She aspires to be a journalist, and is working whole soul towards her goal.
 CAMA's Entrepreneurs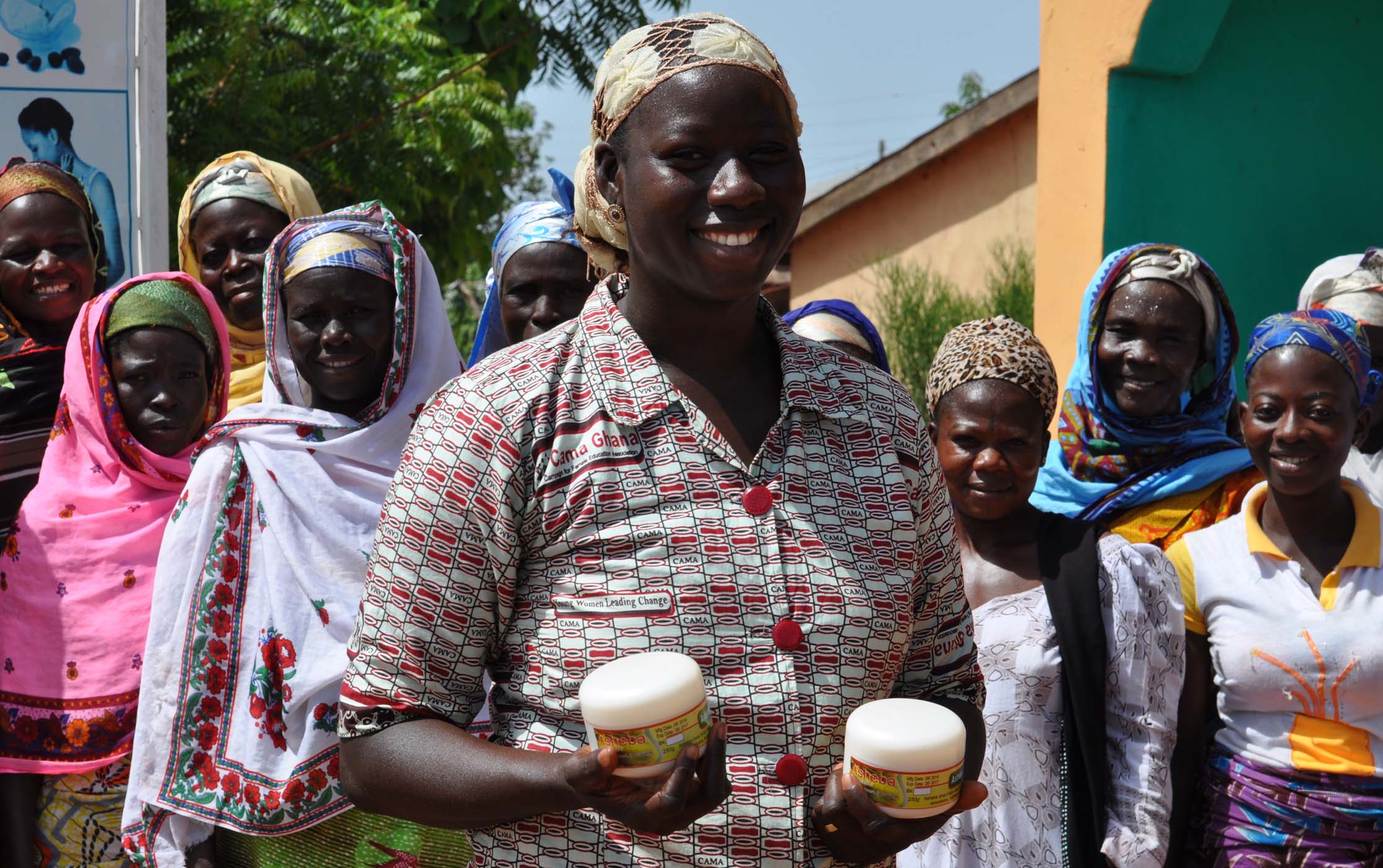 As a CAMA member, Zeinab has access to seed money funding, which she is using, in part, to help her mother to grow her rice and maize trading business. Dolores introduces us to Ayisha Fuseini, another CAMA member and inspirational entrepreneur, who exemplifies the spirit of giving back to create real and sustainable change. The daughter of an impoverished shea nut trader, Ayisha used the knowledge and skills gleaned through the Innovation Bursary Program, a business training and mentoring program developed in partnership with The MasterCard Foundation, to set up a shea butter business. Today, she works with over 220 women in local cooperatives to develop products that she markets to a range of buyers, including international clients. 
A fiercely proud and teary-eyed mother helps Zeinab pack for her journey to Accra to enrol on a five-week course as part of the regional Young African Leadership Initiative. "We realize a child who goes to school is better than a child who doesn't," she says. "So when Camfed came out and chose to support [Zeinab] and helped me with her schooling, I thank them. I appreciate them." Zeinab, Nimatu and Ayisha are just three of tens of thousands of women and girls who have benefitted from Camfed-run programs in Ghana, enabling them to stay in school, succeed, and become leaders of change in their communities. As Dolores observes, when you give girls the opportunity to pursue education, "the sky is the limit."
Since 1998, Camfed Ghana has directly supported 275,471 students across 31 districts to go to school. 3,280 young women have been trained in business skills and have collectively established 1,722 businesses. Together, these women represent a tremendous force for unstoppable change.