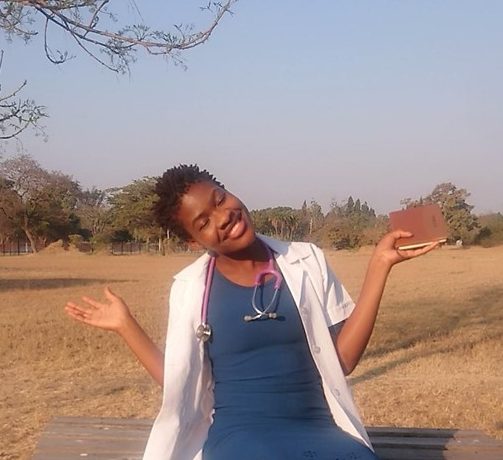 Tendai
CAMFED Association and trainee medical doctor, Zimbabwe
I was born in a family of eight children, six girls and two boys. I am one of three sets of twins. This did not make fending for the children any easier for our parents.
From primary school, I grew to value every friendship and association I would have with my friends. They would share with me the basics, like pencils, notebooks, and snacks, which made my life easier.
Life took a promising turn in 2010 when CAMFED started to pay my fees when I was in Form 1 at secondary school in Chiredzi District. However, in 2015, when I was in Upper 6 and about to write my exams, I fell sick and was diagnosed with pulmonary tuberculosis (TB). I spent the next six months in hospital. I took my exams the following year, 2016, and despite missing school for months, I came out with the highest attainment one can get, which is 15 points (or 5 points each) in Mathematics, Biology and Chemistry!
This was a good reminder that always one's passion and determination outweighs limitations that life presents. In August 2017, I enrolled to study for a degree in Medicine and Surgery at the University of Zimbabwe*. I am progressing well in my studies.
Mine is actually a double smile! First because in a few years I'll be the only doctor in my family and second, because of CAMFED for funding for this future.
My background and health did not deter my dream. During one vacation, on Valentine's Day, I went back to the hospital where I had been treated for TB when I was at school. My mission was to give hope to other TB patients. I brought the patients on the TB ward roses, fruit, and milk among other presents. I spent time with patients, giving them my testimony of recovering from TB. There were school children on the ward, and I took the opportunity to instil hope in them. I wanted to show them that even if they are sick, the community still loves and values them.
Once I complete the initial 7 years of attaining a medical surgery degree, I would like to pursue female reproductive healthcare as a specialism. I have witnessed young women and girls facing many hardships, for example in cases of not conceiving. For girls in school, challenges with period pain are rampant, hence pushing them away from attending classes and participating in other school activities. These are biological and natural circumstances.
It is my passion to look critically and scientifically into these challenges and proffer solutions.
I always work together with the Chiredzi District CAMFED Association members (young women leaders education with CAMFED support), ensuring that community engagement is prioritized. I am also an active member of the CAMFED Association chapter in Harare. My passion and dream is to transform my community, given the exposure I now have in the medical arena.
During a previous vacation, I led a toilet cleaning project in my community where I supplied toilet cleaning kits and cleaned the toilets. As a health practitioner in the making, I want to help keep the environment clean. Together with my fellow CAMFED Association members we also picked litter outside and arranged community gatherings to talk about health issues including tuberculosis.
Through WhatsApp and other online platforms I am connected with community members to ensure correct information about COVID-19 is disseminated.
I am on platforms where we share academic information with young women aspiring to be medical doctors.
From where I come from, I am the only girl so far who has enrolled for Medicine. During school vacations I talk to young women who are finishing their lower secondary school examinations about their subject choices for upper secondary. I also get opportunities to talk to school students at other stages, giving them tips on how I made it to where I am.
I encourage girls to take up sciences. Many young girls are skeptical, as they have grown up thinking science subjects are for boys. I see that background has a bearing on how far you get, the subjects taken, and ultimately the degree program. I have broken this barrier and now young women that I interact with know that they can be anyone they want, if they work hard in school.
My Teacher Mentor (a CAMFED-trained teacher looking after the wellbeing of vulnerable students), who inspired us in so many ways when I was in high school, now gives me a platform to talk to more girls in my former school. I also collaborate with the CAMFED Learner Guides and Transition Guides operating in my local school and around my community. We share our experiences with each other and together put colors to our dreams. We always tell each other how possible it is to be at the top.
My being a medical student now, and soon a medical doctor, helps those I interact with to trust me. I want my achievement to benefit my fellow CAMFED Association members, and it should be seen as my community's achievement.
Above all, I want my story to communicate young women's resilience in the face of adversity, if only they get the opportunity to be educated.
---
*Tendai's university education has been made possible through funding from the UK government's Foreign, Commonwealth and Development Office (FCDO) under the Girls' Education Challenge – Transitions.