Lucia Punungwe
Founding CAMFED Association member, Zimbabwe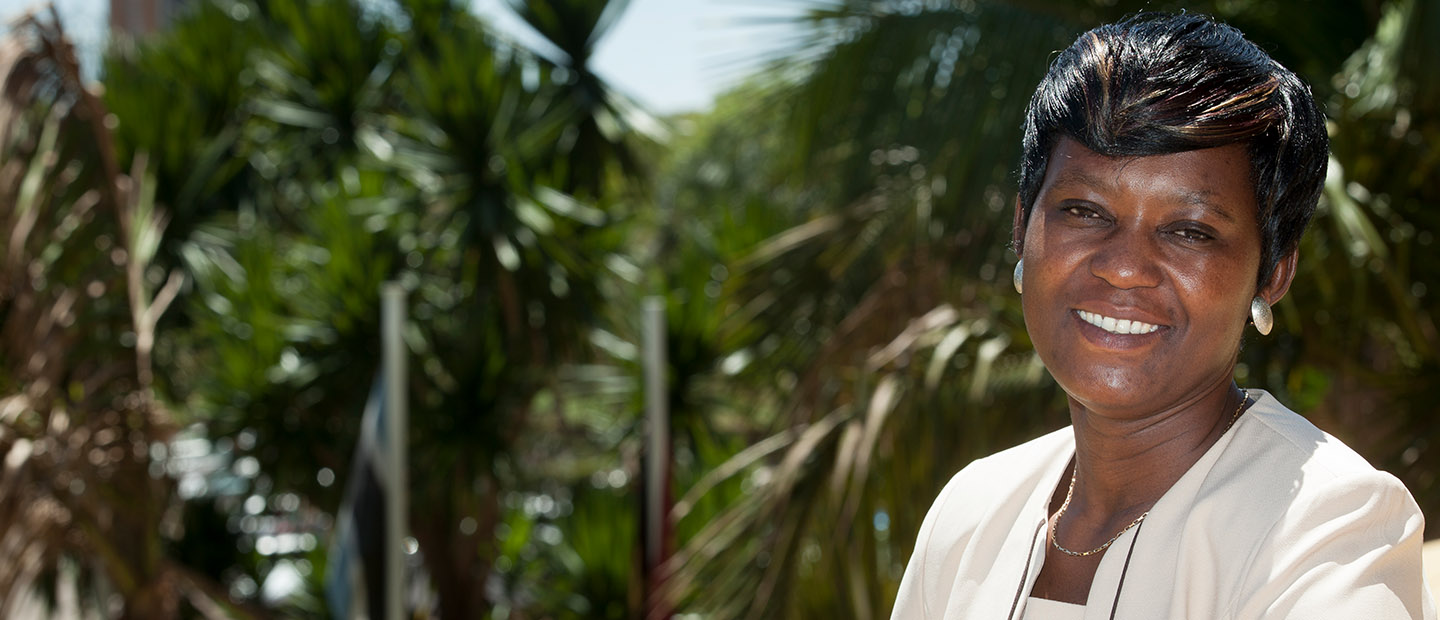 Lucia is a pioneer and a leader of change, having been able to achieve many 'firsts' in her family and community. This was something she could only dream of when growing up in a poor, rural household in Zimbabwe. With six children to support and no formal employment, Lucia's parents could barely afford basic necessities, let alone the costs of keeping their children in school.
Determined to try and remain in education, Lucia would walk six kilometers (nearly four miles) to and from school each day in her bare feet. She remembers how they would be left numb by the frost-covered ground in the winter. One day Lucia's mother found some old tennis shoes when she was out gathering firewood. The family waited cautiously in case someone came to claim them, but eventually they became Lucias' first pair of shoes.
Lucia found she could sail through her primary school work, but in the background each day was a struggle. She felt ashamed of her torn clothes and if her pen ran out of ink, she would have to go door to door offering fruit in exchange for a new one. There were celebrations when Lucia passed her end of school exams with brilliant results, helping to boost the reputation of her rural school. Rather than being overjoyed, Lucia cried and cried knowing she could go no further in education.
It was at this time that CAMFED was established in Zimbabwe. A committee of traditional leaders and community members in Lucia's village were asked to put forward the names of the girls most vulnerable to school drop out. Lucia was one of them and from that moment, her education was secured.
I was extremely happy because I had found my future. I had found myself again – after I'd been lost.
Lucia remembers trying on her new school uniform, and feeling overwhelmed with emotion. CAMFED also provided her with stationery, shoes and other essentials. The secondary school she was placed in had boarding facilities so Lucia didn't have to continue her exhausting journeys. She went there along with 20 other girls from marginalized backgrounds and they became firm friends. Lucia flourished, soon becoming a prefect and later Head Girl.
"I came out of school a changed person, with a blanket of darkness removed from my face, equipped with skills and ready to face life."
After school Lucia became one of the first 400 members of the CAMFED Association (CAMA). The group was founded by young women supported through school by CAMFED, to help them stay connected and work together to overcome obstacles.  
Little did they know that over 20 years on, they would still share that sisterhood and have welcomed thousands more into a pan-African movement. But from the beginning, Lucia and the other CAMFED Association members committed to supporting each other, sharing opportunities, and becoming role models for other marginalized girls.
Lucia secured employment as a relief teacher in a nearby town and with her savings started a small business. Using skills she had learnt at school and with her mother's help, Lucia gradually expanded her poultry enterprise. With her profits she was able to pay her tuition fees for a qualification at Mutare Teachers' College. She recalls: "I finished my teaching diploma and majored in Mathematics, a field that was dominated by men."
If you look at the world, at the nation, female mathematics teachers and science teachers are very few. So I decided to fill the gap!
Today, Lucia fulfils a unique role in her community, though she hopes that this will not be the case for long. She is the first female mathematics teacher at the same secondary school that she was enrolled in as a girl. Having demonstrated that with equal opportunities she could achieve the same as her male counterparts, she wants to create an equitable learning environment for new generations of girls, nurturing their potential as change-makers.
In 2015 Lucia trained as a CAMFED Teacher Mentor, an important member of the school community, offering additional psychosocial support to vulnerable students. Sharing their background of poverty and marginalization helps Lucia to relate and reach out to these pupils, stepping in with practical and emotional help. She often initiates fundraising activities to ensure that children have stationery, sanitary pads and other school essentials. She also personally supports two children with their fees and materials.
Still a committed CAMFED Association member, Lucia works closely with her peers. As a Teacher Mentor, she coordinates the running of the Learner Guide Program, through which CAMFED Association members deliver My Better World, a context-specific life skills and wellbeing curriculum, to students. She also connects school leavers to Transition Guides, who help to equip them to make a successful step towards entrepreneurship, employment or further study.
Because CAMFED has helped me, I feel an inner self-driven urge to also go and assist vulnerable children access education just like I did.
Lucia continues to learn and develop in her career, and has completed further qualifications including degrees in Human Resources Management and a Bachelor of Education in Mathematics. She is a leading light amongst the growing number of inspiring CAMFED Association educators, who are transforming their rural communities.