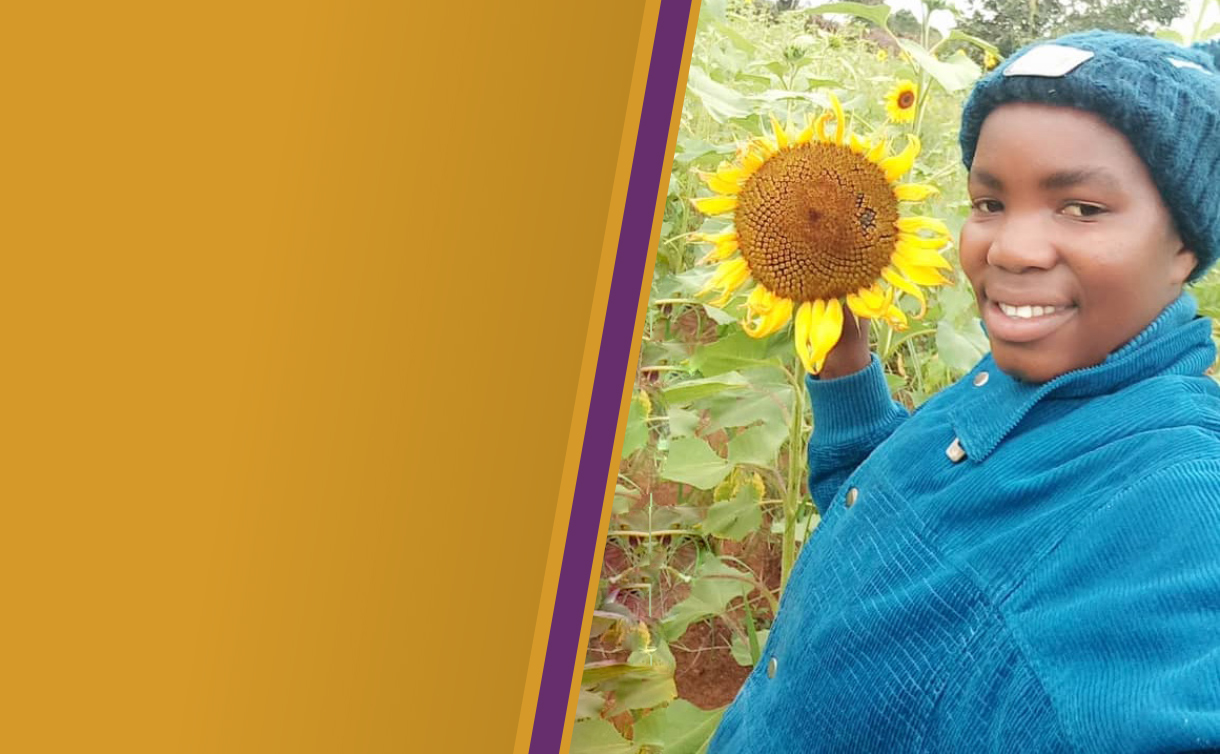 Chise
CAMFED Association member, Learner Guide and agriculture entrepreneur, Zambia
I come from a family of 11 children, nine boys and two girls. I am the seventh child. My family lives in Mpika district, Zambia. When I was growing up my father worked as a government teacher and my mother as a homemaker and small-scale farmer. Despite my parents' belief in education, they struggled to provide the financial support that my siblings and I needed during our school time. Every day in education was a challenge to me.
I had to walk a very long distance because nearby schools were costly and my parents were not able to pay. Instead we had to look for a primary school where the fees were within reach. However, as there are many of us in the family and I was among the younger ones, I had little chance of getting the requisite support. I thought I was not going to make it.
I felt very excited when I was selected for CAMFED support. It was after I wrote my primary exams — I was able to continue my studies in a boarding school. It was a marvellous feeling to know that I could access the education that is every child's right.
After graduating from school I joined the CAMFED Association, the network of women leaders educated with CAMFED support. The network means a lot to me — as a group of young women we support one another, we find job opportunities and we learn new skills. It's all with the aim of alleviating poverty in our families because we share similar backgrounds. We're also determined to show the value and importance of educating girls, so they can rise up as leaders of change. I'm proud to have been elected as the Vice Chairperson for Mpika District.
In 2020, I chose to train as a CAMFED Association Learner Guide. I wanted to interact with girls in my community and help them overcome their challenges. When I looked around me I saw many young people who were vulnerable — to early marriages, to being trapped in the cycle of poverty, and to having no voice in community matters. By becoming a peer mentor and role model, I have the chance to speak about the importance of education, to pass on my knowledge and skills. I particularly wanted to help girls to understand the dangers of child marriage and adolescent pregnancy.
As CAMFED Association members and Guides we call community meetings about once a month to talk about child marriages. We will also go into schools to talk to both girls and boys about the issue. We follow the protocol by seeking permission from the Village Headmen and Headwomen, and then we work hand-in-hand with CAMFED Mother Support Groups and adolescent groups. The whole community is in support because they see that poverty hinders so many — stopping them from accessing education and pushing families to resort to marrying off children. From the time we started, we are seeing a change.
A while ago I heard about a girl in my district who was married but wanted to return to school. It was after we had visited the community — her parents called me to say the girl was longing to see me and would love to join the CAMFED Association. She was willing to start learning again, but had two young children and felt that would prevent her. I encouraged her, telling her she was still young and could get there, as long as she kept a positive mindset.
After that she talked to her husband, who was willing to pay school fees, and she also gained the support of the school community. By 2021 she had made it to Grade 12 and was preparing to write her final exams. I'm happy for her because I know she will become a woman of change and a leader. She will be the testimony for others — they will know that they too can achieve what they want in life.
I think we are playing a very important role in our schools and communities. It can sometimes be challenging being a Learner Guide, because we see that many of the learners have low self-esteem or have even lost their belief in education. We meet with the students, encourage them, and answer their questions. We befriend them so that they want to interact with us and attend our sessions. So we have become examples to the girls in our community — they are becoming more motivated and more ambitious.
Many of the learners are attending because of the My Better World curriculum — they want to learn it each and every time. The workbook helps them to discover their powers and their inner strengths, as well as understanding their basic human needs. After using their My Better World books they are able to think about the consequences of their actions now and in the future, so they are better able to have a vision and to describe their career ambitions. We also talk about moods and build up self-esteem, care and respect, which helps the learners to interact with and support one another.
Over and above the improvement to their wellbeing, we also see that their reading, writing and understanding skills are being lifted up. The curriculum is very impressive!
I also enjoy being a Learner Guide because I've learned a lot. I've learned leadership skills, I've learned education skills, and I've also become a role model. I feel humbled and excited to be one of the first women in Zambia to take a vocational qualification known as BTEC. Learning is always my focus. It helps me to understand the world we live in and helps me to overcome barriers to achieving my career ambitions. I have worked hard to complete the BTEC assessments for all my units alongside volunteering as a Learner Guide, and I have used the skills developed through the BTEC in my sessions.
I would say that the area I've developed most is in business. I started by looking at the area where I am, and coming up with a business development plan. I decided to start a farming business, growing soya beans and sunflowers — because I found out that cooking oil is in demand in my community — as well as having a small fish pond. When my harvest is ready, I make oil from the sunflower seeds. I store the soya beans and use them later to make milk, fritters or other foods. Then I can also use the sunflower husks and some soya to make food for the fish.
Previously I earned qualifications in Early Childhood Education and in Electrical Power Installation. I have put my knowledge of both these areas into practice, but there are challenges — particularly with Electrical Power installation, as there is not the demand or the materials to pursue this full time in my community. I have completed the wiring of one house though! I'm proud to have that qualification because I wanted to stop that culture of discrimination — the belief that certain jobs can only be done by men.
For now, I'm focusing on my farming business. In years to come I hope to be more financially stable and be able to have big fields of soya beans, sunflowers, and to improve my fish pond as well. The profits help me to sustain my family, particularly my younger brother.
They also mean that I can support others in my community. I concentrate on those who lack their basic needs. I help the aged by buying them soap, lotion and food items. I share with others when I buy things like clothes. I will pay someone's school fees, buy books, and so on.
I have been able to help many pupils in my community. For example, I have supported 10 children who were at risk of dropping out of school because they didn't have books. I buy books, pencils and pens to take to the school where I deliver my Learner Guide sessions. It means those learners can attend their classes each and every time.
I also heard of a situation where twin girls were on the verge of early marriage, as their parents could not afford their school fees. I visited their parents, who couldn't see a way forward due to their financial situation. So I said: "Let me resolve this issue by taking the girls to school." Right now they are in Grade 9, after I paid for them in Grade 8 — helping them with school fees, uniforms, books, a ream of paper, everything. The girls are doing well and I'm sure to say they will do even better after they write their exams.
We are glad to see children back in school after the pandemic closures — that time presented so many challenges for them and for all of us. Those of us running small businesses were very much affected because our customers were not able to reach us or afford our goods. And some of the learners believed that schools would not open again and they were not occupied with educational skills at all. So we, as CAMFED Association members and CAMFED school community members, visited children from household to household to understand and record their situation.
I started a study group to meet with students twice in a week and help them with science, math and English. Then we would have a third session to go through the My Better World workbook. I'd share the progress we were making with the CAMFED office in Lusaka. I aimed to visit the learners frequently and also encouraged some who had had to get married that a return to school would be possible. Even now, I'm keeping up with the study group, as I can see how much it helps.
As CAMFED Association members we also helped by making masks which we distributed to the learners that we met. We taught them about social distancing — which many were hearing for the first time — about the use of sanitizer, wearing face masks, and so on. By teaching this to the children it helped us reach many community members with prevention measures.
Looking to the future, I hope that girls in my community and across Zambia receive the best possible education and become independent leaders. I would like to see girls becoming aware of decision-making, knowing about their wellbeing, choosing the right career paths and learning to manage finances. As young women they will become entrepreneurs and self thinkers who are aware of their rights and choices.