Faith Nkala
CAMFED National Director, Zimbabwe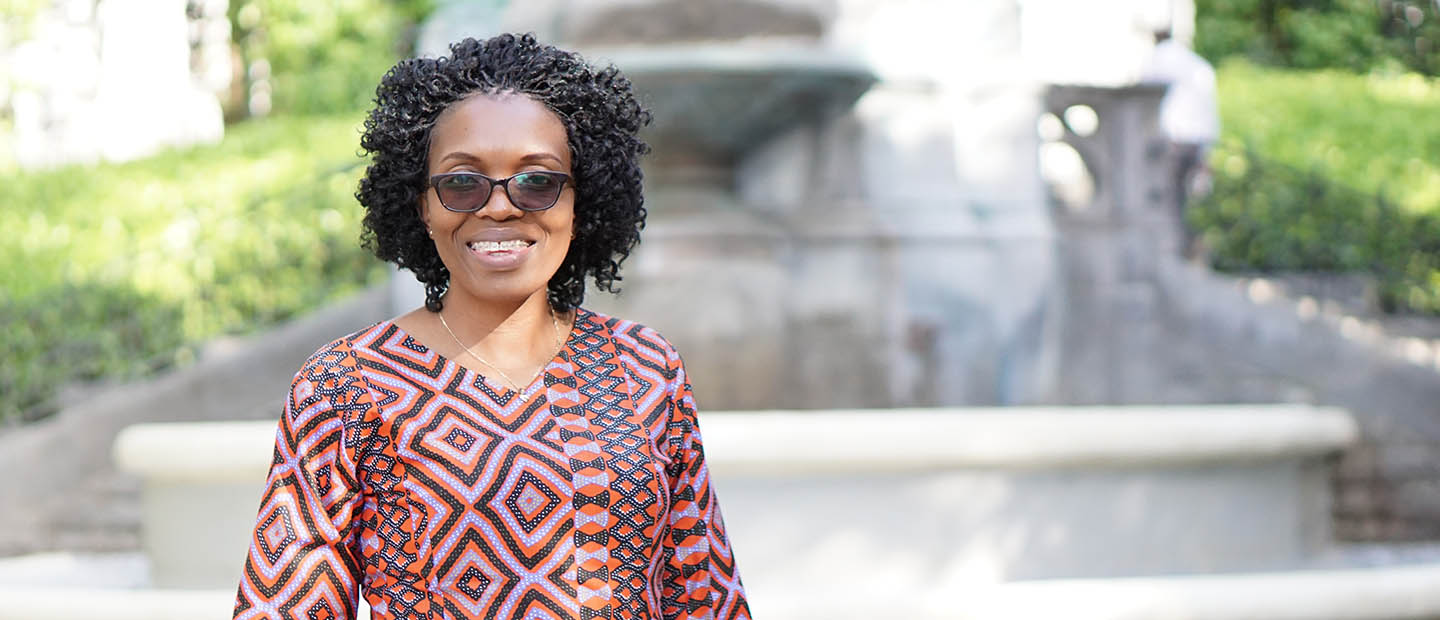 Faith was raised by her loving and hard-working mother, who cared for her five children and her elderly husband, Faith's father. Poverty deprived her of many rights and opportunities, but she has proudly watched her daughter Faith grow into a strong and thoughtful leader, who champions other vulnerable women and girls. The family comes from rural Zimbabwe, where they relied on subsistence farming to survive. It was a daily struggle to provide Faith and her four siblings with food and clothing, let alone cover their school-going costs.
[My Mum] is an amazing woman, hard-working, my hero and my role model. She has taught me so many things.
Faith believed that by the time she finished primary school her education would be over. Her mother was already struggling to support her two older children at secondary school. Knowing the value of education, Faith's mother would do all she could, taking on menial jobs at the school to off-set their fees. However, her children would often be sent home for not being able to pay. Even with Faith's kindly primary school teacher buying vegetables from her mother to help her cover the costs of school stationery, there was no way to make ends meet.
The situation changed when CAMFED was established simultaneously in Cambridge, UK and Harare, Zimbabwe. CAMFED stepped in to support some of the most marginalized girls in rural Zimbabwe, including Faith. She was provided with secondary school fees, uniform, books and sanitary pads, as well as accommodation in the school's boarding house. During those years she formed a strong bond with other CAMFED-supported students, including Angeline Murimirwa, who is now CAMFED's Executive Director across Africa.
In the group we complimented each other so well. We never knew that life would take us where we are today.
When Faith completed school, she became a founding member of the CAMFED Association of women leaders educated with CAMFED support. This group of young women met for the first time on July 2, 1998, to discuss their hopes and concerns about the future.
Having completed school, they now felt pressure to find employment and help to support their families. They realized that by forming a peer support network they could assist one another, and avoid the dangers of early marriage and exploitation that threatened to derail their futures.
Faith was elected to sit on the first CAMFED Association committee, and would coordinate their quarterly meetings. She trained as a Peer Health Educator, and together with other CAMFED Association members and a local nurse, would go out into communities to conduct sessions on sexual and reproductive health and other issues.
Faith later joined the CAMFED staff, and has been a driving force behind the Learner Guide Program, which is now a core part of CAMFED's work in all five countries of operation. The program has its roots in other peer mentorship and training programs led by Association members, including the Peer Health Educator scheme. The young women understood from their own experiences how a girl's choices during and beyond school – relating to her health and her life – are strongly influenced by her socio-economic background. CAMFED Association members are uniquely placed to speak to girls about how a seemingly advantageous offer of marriage, for example, can in fact leave a young woman and any children she may have trapped in a vicious cycle of poverty.
We do not just talk about helping girls stay in school… we keep girls in school.
Today, in her role as National Director in Zimbabwe, Faith has a wide oversight of CAMFED's programs, in which girls' education is the starting point of systemic change to end poverty and inequality. She manages relationships with a number of strategic partners in Zimbabwe and beyond, as well as being instrumental in a number of research projects measuring the wider impact of education on marginalized children, especially girls. Faith holds a BA Honours in Development Studies, and a BA in Health Sciences and Social Services from the University of South Africa, and is currently pursuing a Masters in Psychology at the University of South Wales.
Faith has spoken and participated on a number of international platforms, including as a plenary speaker on Governance, Transparency and Collaboration at the Skoll World Forum on Social Entrepreneurship in Oxford, UK in 2010. She was also a delegate for the 10th European Evaluation Society Biennial Conference in Helsinki, Finland in October 2012.
In May 2018, Faith travelled to Brussels, Belgium, to participate in the Educaid.be & Be-cause Health Conference. In a session entitled 'Making the case for investing in education and health', Faith set out how CAMFED's education programs are improving the health and well-being of entire communities through the leadership of young women who were once excluded.
Education is a powerful tool to ensure girls and young women understand their rights and their bodies, enabling them to take control of key life choices.
In January 2019, Faith spoke at a special event alongside Mrs Tumisang Thabela, the Permanent Secretary of Zimbabwe's Ministry of Primary and Secondary Education and Annabel Gerry, Head of the UK's Department of International Development in Zimbabwe and South Africa. Together they celebrated the arrival of 3,000 new bicycles to help vulnerable students living long distances from school, to get there more safely and quickly.
Through these progressive partnerships, and together with the staff at CAMFED Zimbabwe and with her sisters in the CAMFED Association, Faith is committed to providing holistic and context-sensitive support to the most marginalized. Having grown over the years with CAMFED, Faith has watched educated girls become young women shaping change as teachers, doctors, lawyers and entrepreneurs. She herself is a leading expert in education, health and development, and is a positioned at the forefront of our unstoppable movement.
Read Faith's blog: Celebrating a new generation of teachers