Women's leadership for girls' education: Celebrating IWD 2021
On International Women's Day (March 8) CAMFED's global community showed up to celebrate the activism of our young women leaders across Africa, who are tackling the learning crisis exacerbated by COVID-19.
Together, we underscored the pressing issues that we choose to challenge each day, so that girls can learn and thrive. Please enjoy and share this compilation of some of the highlights:
Paying forward the benefits of education
Despite the economic challenges that the pandemic has brought for the young women graduates in our CAMFED Association, our leaders have continued to support those most in need in their under-resourced, rural communities. International Women's Day saw an additional wave of outreach to girls and their communities as CAMFED Association members pooled business profits to multiply donor support, connected families to services, and offered their time and expertise.
Across Tanzania, for example, our young leaders took action: In Kiwangwa district they distributed 200 sanitary pads to girls, and CAMFED Transition Guide Julieth held a session on child protection for students. In Rufiji district, CAMFED Association members provided school items to learners with disabilities, and in Bagamoyo district they donated cement to a secondary school to help improve facilities. In Malawi's Dedza and Machinga districts young women with tailoring businesses continued to sew face masks, teach their skills to others, and then donate the items, together with other essentials and health information.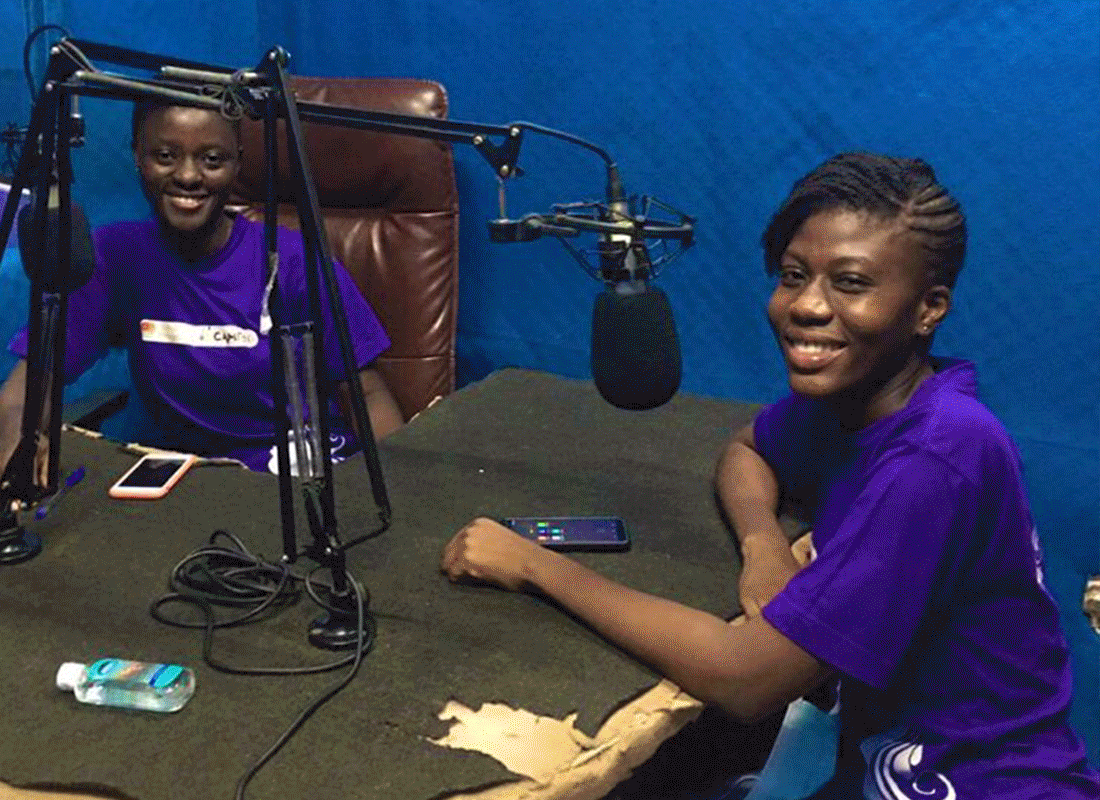 Making our voices heard across Africa and around the globe
CAMFED Association members Esther Rockson, Mercy Abokoma Abakah, and Angela Menyah appear on GTV. In this clip, Esther says that International Women's Day is the time to call on stakeholders to make policies that support inclusiveness across all sectors.
In Ghana, young women took to broadcast channels, both locally and nationally, to discuss our movement's commitment to women's leadership for girls' education. CAMFED Association members Esther Rockson, Mercy Abokoma Abakah, and Angela Menyah participated in an hour-long television special about how our movement supports girls not only during their school years, but also after graduation, so they can gain the confidence, independence and respect to serve as community leaders. Students at the Ghana Institute of Journalism used the radio to discuss levelling up in leadership, specifically during COVID-19.
And across the continent many others represented our sisterhood on high-profile platforms. In Zambia, CAMFED Association member Alice Saisha spoke together with CAMFED Executive Adviser Barbara Chilangwa on a panel session hosted by the British Council Zambia, while National Director Dorothy Kasanda appeared on television.
The CAMFED Association in Zimbabwe brought together an impressive line-up of female professionals for a virtual dialog, to inspire those starting out in their careers and leadership journeys. Young women graduates had the opportunity to virtually engage with CAMFED Association "Guides" who mentor students in their local schools, and support graduates in the transition to enterprise and leadership, including in climate-smart agriculture. They met peers now working in community development, as well as running their own NGOs.
We all celebrated as Lydia Wilbard, founding CAMFED Association member and National Director of CAMFED Tanzania, was named the winner of the Excellence in Education Leadership Award at a special event hosted by Plus TV. The accolade recognizes her years of dedication as a champion for girls' education and a beacon of hope for once marginalized young women.
Supporters answering our rallying cry
Members of our movement came forward not just to applaud these successes, but to show us that they mean business when it comes to placing girls' and women's rights firmly on the agenda, and to join together in making them a reality. In response to the questions: 'What do you choose to challenge?' and 'How are you addressing this issue?' we received many inspiring and uncompromising responses, including:
"I choose to challenge the gender stereotypes that relegate the power and position of women in society."
"I choose to challenge sexism. I express how [discriminatory] words and actions affect me from my perspective and what could be alleviated."
"I choose to challenge child marriage by securing formal and sound education environments for girls."
"I choose to challenge gender-based violence by speaking to fellow women about the power they have, how to use it, and the power of education."
Partners and champions showing up for us
This commitment was echoed by the partners and champions from all corners of the globe, who showed up for us on social media and other channels. The Archewell Foundation, Gloria Steinem, Julia Gillard, Jordan Shapiro and 2040: The Regeneration were amongst those who encouraged new audiences to learn about and donate to CAMFED, while we are grateful for jewellery brand Kimaï 's partnership throughout the month.