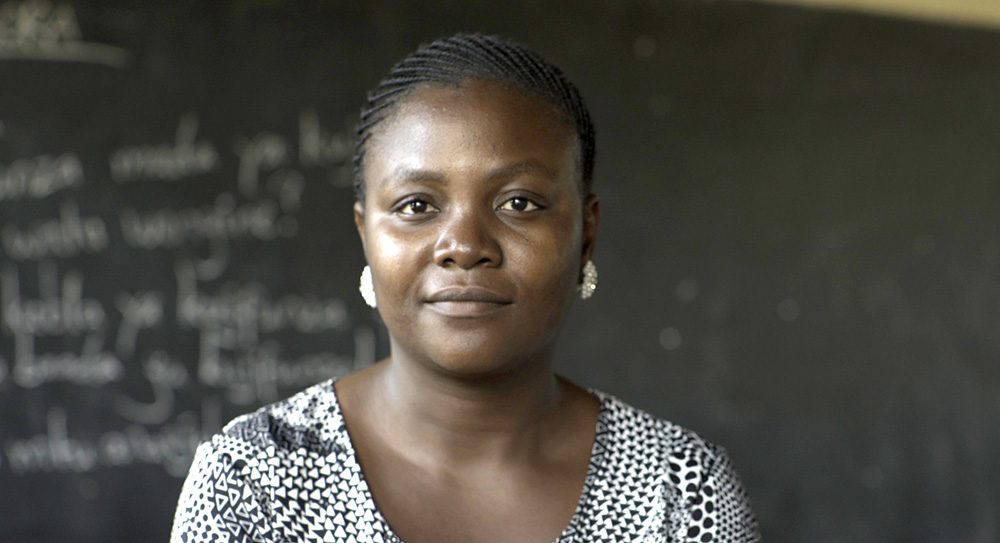 Stumai
CAMFED Association leader, Tanzania
Meet CAMFED Association leader Stumai, whose work as a Learner Guide at a CAMFED partner secondary school in Morogoro District, Tanzania, transformed her community. Stumai tragically lost her father when she was just three years old, leaving her disabled mother to single-handedly raise her and her five siblings. Growing up, Stumai often felt isolated and hopeless in the face of her daily struggle to stay and succeed in school, so after graduating from secondary school with support from CAMFED, Stumai joined the Learner Guide Program.  She became a champion of the program that had enabled her to reach out to other young people like her, and provide a source of hope, guidance, and motivation to the most marginalized students in her community.
In spite of the challenges that Stumai faced, she had passed her primary exams with flying colors. Her mother, determined to see her daughter stay in school, had sold her only assets to cover the costs for the first term at secondary school – a stack of corrugated iron sheets that she had been saving to build a better house for her family one day. But then Stumai's dream of completing secondary school faltered.  Her family simply could not afford to keep paying for her uniforms, school fees, and other school-going costs.  
Luckily, her Community Development Committee stepped in, and when Stumai found out that she had qualified to receive a CAMFED bursary, she was delighted. "I felt that my life was rescued. This motivated me to make more efforts in my studies in order to reach my dream".
In 2012, Stumai joined the CAMFED Association (CAMA) – the powerful network of women leaders educated with CAMFED support – and was trained as a CAMFED Learner Guide, determined to help other marginalized students. "Girls meet many challenges when they are in school and lack someone to guide or counsel them. So I believed that if I became a Learner Guide I would be like their sister, supporting them to resolve the challenges they meet and reach their dreams and not give up." As a Learner Guide, Stumai volunteered weekly at her local secondary school to deliver sessions from the My Better World curriculum, encompassing life and learning skills, as well as vital sexual and reproductive health information and psycho-social support. For Stumai, the biggest reward was witnessing the girls she mentored gaining self-belief, and seeing the positive impact of these sessions, "I am proud to see the change in students, and knowing that I contributed to that. Because of this, I have gained a lot of respect both in and outside of the school".
Solving the issue of hunger in her local primary school
Learner Guides work in partnership with schools, communities and district governments, creating a diverse network with the shared goal of keeping vulnerable children in school. Unleashing her powerful combination of leadership skills, confidence and activism instilled in her by the Learner Guide training and her own lived experience, Stumai was the driving force behind the School Meals program currently in place at her village primary school. During her visits, Stumai saw that children were dropping out due to hunger, and long distances to the school, which was unable to provide food. Stumai met with her village Chairperson, and asked him to call a village meeting, inviting the local parents and teachers to attend. Knowing first hand how difficult it can be to perform well at school in the face of consistent hunger, Stumai led the discussion to coordinate a feeding programme, supporting the parents in planning how they would come together to provide breakfast for hungry learners.
In return for their volunteer work, Learner Guides are able to access small interest-free loans to grow local businesses. Stumai has slowly built up her income-generating ventures, starting first with a small shop on the outskirts of her village. Now, Stumai runs a thriving motorcycle taxi business. 
As Stumai continued to plow the benefits of her education back into her community, she gained the respect of parents, teachers, and village leaders. Stumai now organizes training sessions for parents and community leaders, teaching practical skills that can be applied to income generating projects, such as the production of liquid soap and financial literacy training. In sharing her knowledge, Stumai has been the catalyst sparking improved living conditions for families in her community, and parents are able to support their children to stay in school.
The village Chairperson is extraordinarily proud of Stumai. "Stumai respects herself, works hard, consults us, and always thinks beyond herself. I have observed Stumai climb out of poverty, complete her education, and return to her community to help others like her". He explains that thanks to her, primary children are being fed at school, can concentrate better in class, and there has been a noticeable improvement in students' motivation and attendance. Stumai is now using her leverage in village and ward meetings to advocate for girls' education and women's rights.
Having succeeded in linking women with opportunities to launch small businesses making scarves and tie dye material, Stumai is ensuring that unlike her mother, they won't be forced to make incredibly difficult decisions in order to send their children to school. Stumai is now working hard now to create youth entrepreneurship groups, supporting their transition from school into meaningful employment and financial independence.
With her education, Stumai has broken the cycle of poverty that she was born into, and is now helping others to do the same, with the passion and determination that is the hallmark of Learner Guides. A role model, changemaker, and philanthropist, Stumai's unstoppable potential has been unlocked and multiplied across her community. Looking ahead, as a Core Trainer and District Program Coordinator, Stumai is excited to continue training future Learner Guides, and future leaders, with the power to unleash the potential of marginalized young women across Tanzania, and across Africa.