Soledad O'Brien in conversation with Angeline Murimirwa
Discussing "Girls' education as a catalyst for change" at the 2022 Hilton Humanitarian Symposium and Prize Ceremony
It's all about the Power of Perseverance
As the 2021 Hilton Humanitarian Prize Laureate, we were thrilled that CAMFED's Co-Executive, Angeline Murimirwa, accompanied by CAMFED USA's Executive Director, Brooke Hutchinson, was able to join the Hilton Humanitarian Symposium and Prize Ceremony in person in Beverly Hills, California this year, under the theme "The Power of Perseverance." 
While last year's ceremony – held virtually in light of the global COVID-19 pandemic – was spectacularly well-orchestrated, there's nothing like meeting the dedicated and passionate people that make up the Hilton Prize community in three dimensions!  The world faces enormous challenges, but the work of the Hilton Prize laureates  – and their perseverance – should give us all hope.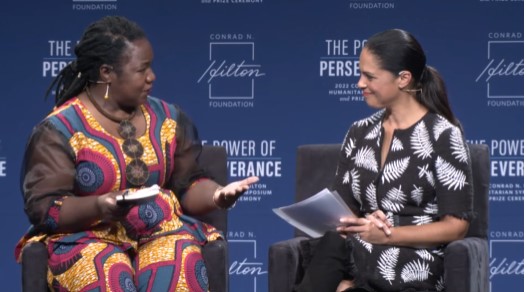 Watch Soledad O'Brien in Conversation with Angeline Murimirwa
When it comes to educating girls in rural Africa, there isn't much Angeline (Angie) Murimirwa, whose early years were marked by poverty and exclusion, doesn't know. Co-founder and first Chair of our network of women leaders educated with CAMFED support – the CAMFED Association – she now leads our global movement, and works with students, communities, schools, national governments and partners across the globe to change the status quo for women and girls for good, creating a more equitable world for us all. On October 21, 2022, she sat down with journalist, producer and philanthropist Soledad O'Brien in Beverly Hills.