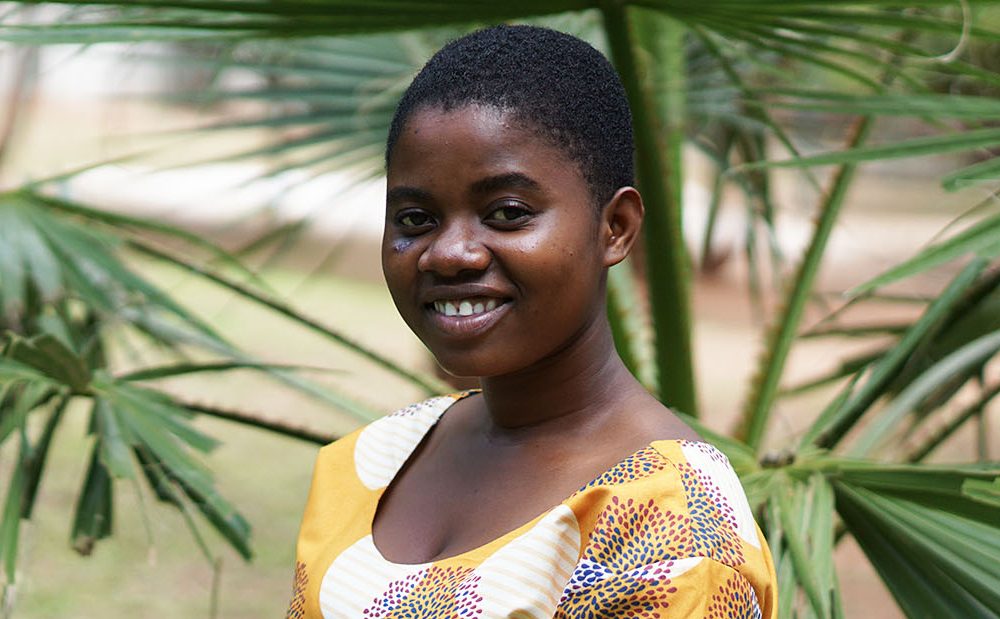 Rose
CAMFED Association leader, Malawi
Rose was born in rural Malawi. Tragedy struck when she was only six years old, and her mother and brother died in the same year. Rose grew up with her grandparents who did not have any paid work, and depended on subsistence farming. To earn money for soap, clothes and shoes, Rose did odd jobs for neighbors. Sometimes she would go to sleep without having eaten anything all day.
The challenges Rose faced intensified as she progressed to secondary school. In Rose's district, and across Malawi, there are many barriers to girls' education. These include widespread poverty and an acute lack of secondary schools. In this context, girls are often the first to be excluded from education, leaving them vulnerable to the dangers of child marriage, early pregnancy and HIV/AIDS.
Rose was determined to stay in school, walking 7 km there and back, but her family struggled to raise the money for her school fees and all the other essentials. When she found out she would receive support from CAMFED and The Mastercard Foundation, Rose was so happy to be able to complete her secondary education.
Education is a key that unlocks somebody from being unknown to known.
In 2014, Rose graduated into the CAMFED Association (CAMA), the network of young women leaders educated with CAMFED support. Their sisterhood addresses rural isolation and provides young women with a platform for stepping up for others.
Rose has played an active role in the CAMFED Association from the very beginning. She served as National Secretary for two years, before being elected as District Chairperson. In 2017, Rose was selected by the Neno District Community Development Committee as a Core Trainer to help manage a CAMFED program to reduce child and early marriages among girls and young women in her district. 
As part of her role she trained CAMFED Learner Guides to deliver a life skills, sexual and reproductive health (SRH) and wellbeing curriculum in target schools, and works with families to raise awareness of the importance of girls' education. Rose also reaches out to community members to deliver information and training on HIV/AIDS and SRH.
A passionate champion for girls' education, Rose has a growing reputation in her community and beyond as an activist against child marriage. She regularly facilitates awareness campaigns around child marriage, speaking out in front of large groups of parents and children, teachers and school committee members, together with local traditional leaders, mother support groups, social welfare officers and the police.
I have ended 14 child marriages. I work hand in hand with traditional leaders in my community.
Rose advocates for the right of every girl to go to school, and has been reporting child marriage as child abuse cases to the Social Welfare Office. Thanks to her activism, 14 child marriages have already been annulled, the child brides are being supported and encouraged to continue their education, and, where appropriate, the perpetrators of abuse have been arrested.
Ten years from now, I see a bright future because I am fully empowered and educated. I will help more children, assisting them with their basic needs.
By 2019, using the profits from her grocery business, Rose had already managed to pay school fees for seven girls to attend secondary school.
When the COVID-19 pandemic struck, Rose was one of the young women at the forefront of child protection, redoubling her efforts to prevent child marriage during a time when economic hardship and uncertainty as a result of school closures pushed more families into extreme poverty. 
Rose speaking during the COVID-19 pandemic in May 2020
In November 2020, despite disruptions due to the pandemic, Rose graduated with a Diploma in Leadership and Development studies. She began working as a Core Trainer of CAMFED Transition Guides in early 2021. At the end of that year, she also proudly celebrated the success of a disabled boy in her community, whom she had supported through primary school, when he passed his exams and secured a place at secondary school.
Rose's commitment stands her in good stead to fulfill her ambition of becoming a Child Protection Worker. Already her efforts are keeping vulnerable girls in education, ensuring they become educated and empowered young women with the ability to lead change.
Tackling child marriage in Malawi
Rose is a leader in the CAMFED Association of women leaders educated with CAMFED support. In this documentary, Rose explains how she and her sisters in this powerful network rally school and community support to end child marriage, which is especially prevalent in marginalized communities, where families are too poor to support children through school.