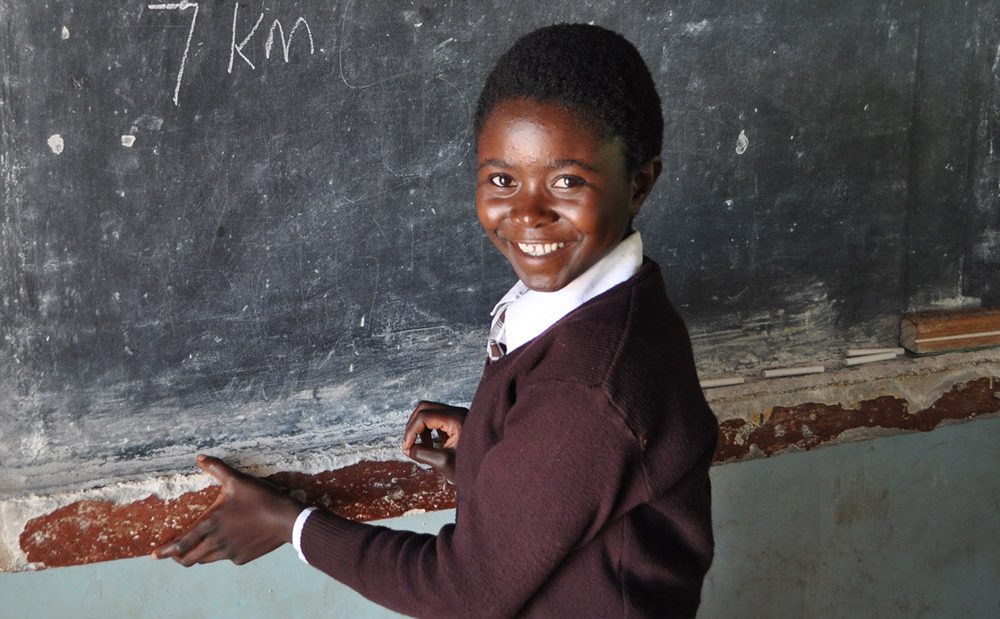 Rockcilia
Secondary Scholar, Zambia
Rockcilia's childhood was beset by tragedy. Her parents divorced when she was six, and she was sent to live with her grandmother. Shortly afterwards her father died, and eventually her mother remarried. With the promise she could be cared for at home again, Rockcilia returned to live with her mother and stepfather. But when she was just eight years old, Rockcilia's mother died.
Rockcilia and her two siblings, now orphans, continued to live with their stepfather. For a short time he paid her school fees, but when he got married again, with his new responsibilities, he could no longer afford to keep paying. With no guardian or caregiver, Rockcilia's education almost ended here.
With encouragement from her younger sister, Rockcilia did all she could to stay in school. To earn money and cover her school fees and essentials she found casual work on farms. She could raise a small amount by preparing the land, weeding and doing other jobs. In this way she managed to complete the last term of Grade 8.
Rockcilia wasn't sure she could continue at school. She would leave home at 4:30 am to start the seven kilometre walk, arriving too exhausted to concentrate.
There was little time to study at home, as she had to look for farm work, and with no electricity she couldn't read after dark. People suggested she should marry to gain stability, but Rockcilia was sure this wasn't the answer.
Returning to school at the beginning of Grade 9 , Rockcilia learned that she had been selected to receive CAMFED support. Her holistic package included school fees, uniform, shoes, books and sanitary pads, as well as specialist support from a Teacher Mentor.
Rockcilia was also given a place at a the newly-constructed school hostel, so she no longer has to walk long distances each day.
Secure in her education and with more time to focus on her studies, Rockcilia is now able to reach for a brighter future. With remarkable resilience and optimism, she says:
When Rockcilia completes secondary school she will join a sisterhood – the CAMFED Association (CAMA) – formed of young women leaders educated with CAMFED support. This is the largest leadership network of its kind in Africa, which supports young women to transition from school to secure livelihoods, as they give a hand up to the next generation of vulnerable girls and boys.
With this peer support, Rockcilia can pursue her goals, following in the footsteps of other doctors and healthcare workers in the network, including Runyararo and Talent.