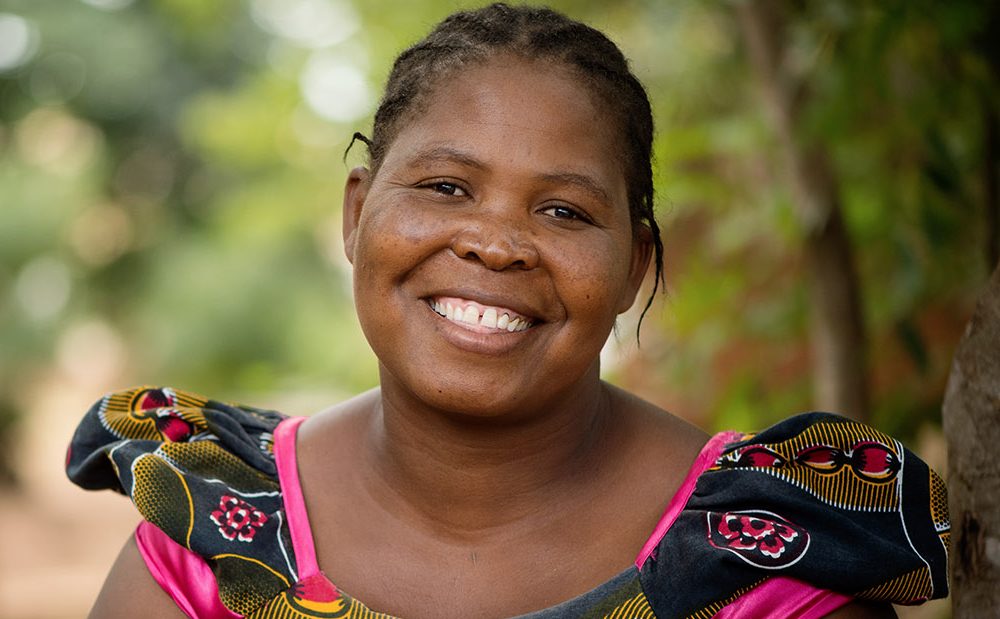 Rhoda Komboni
Mother Support Group Chair, Malawi
Rhoda comes from Zomba District in southeastern Malawi. She has been a member of her local Mother Support Group since 2012. As Chairwoman of this dedicated group, Rhoda leads other parents in their efforts to ensure learners can remain and thrive in school.
The mothers offer both material and emotional support to the most vulnerable children, often girls. As CAMFED Champions, Rhoda and her group actively support the advancement of girls and young women — working in synergy with the female leaders in the CAMFED Association and with CAMFED Operations.
Under Rhoda's proactive leadership, her group founded their own agricultural enterprise. By selling their produce, including pigeon peas, ground nuts and soya beans, they have been able to raise funds to send more children to school. With their proceeds, the women provide students with school fees, learning materials and meals.
We appreciate the challenges that these learners are facing. We said, what else can we do to assist these learners? We started a small scale business. We also secured land. The aim was to have funds so as to support the needy learners.
In rural Malawi, one of the greatest barriers to girls attending secondary school is the long distances they must walk. Concerned for the learners' safety and for the impact that an exhausting journey has on their ability to focus in school and study in the evenings, Rhoda stepped in. She encourages parents to send their girls to boarding facilities that are supported by the Mother Support Group. The women ensure that the girls are protected, looked after, and have someone to confide in.
In collaboration with CAMFED Teacher Mentors and other members of the school community, Rhoda delivers guidance and counselling sessions to students.
She also speaks to others in the wider community, so that her advice and advocacy touches all those who have influence over  a student's life. 
We offer the learners guidance and counselling at least twice a month, encouraging them on the importance of education, and giving sexual and relationship health education. We do this in collaboration with the Head Teacher and the Teacher Mentor.
As Rhoda explains, although on the surface it appears that early marriage or pregnancy are the reasons girls drop out of school, the root causes lie in poverty and unattainable school-going costs. These include school and exam fees, uniforms, sanitary pads, shoes and other items, which are often out of reach for marginalized families. Rhoda sees many learners whose desire to go to school is so strong, but whose financial situation is desperate. This combination makes many girls vulnerable to exploitation.
These learners walk very long distances, about 10 kilometres. Our worry is that they could meet some sort of problem along the way, and it is our role as a Mother Support Group to ensure that the girls are protected.
Rhoda highlights the importance of not only working with individual girls, but also with their families. In some cases, when relatives are struggling to provide daily necessities at home, marriage is seen as a more financially stable option. For this reason, Rhoda has made an agreement with the parents and traditional leaders that whilst girls are in school, they should not accept or arrange marriage proposals. Rhoda also ensures that girls who have dropped out due to early marriage or pregnancy are given the resources and support they need to return to school and complete their education. These efforts go a long way in breaking this cycle, and delivering a quality, responsive and holistic approach to supporting girls in school. 
This year, we have managed to bring back three girls who have dropped out of school. It is our wish that these girls remain in school and complete secondary education and, whatever we are doing, we are making it happen.
This inextricable partnership between the Mother Support Group and the community is especially important for gathering ongoing information on vulnerable children. For example, if Rhoda hears news of repeated absence or changes in a learner's living situation, she can carry out a home visit to assess the needs of that child, and galvanize the support and resources necessary to respond to those needs.