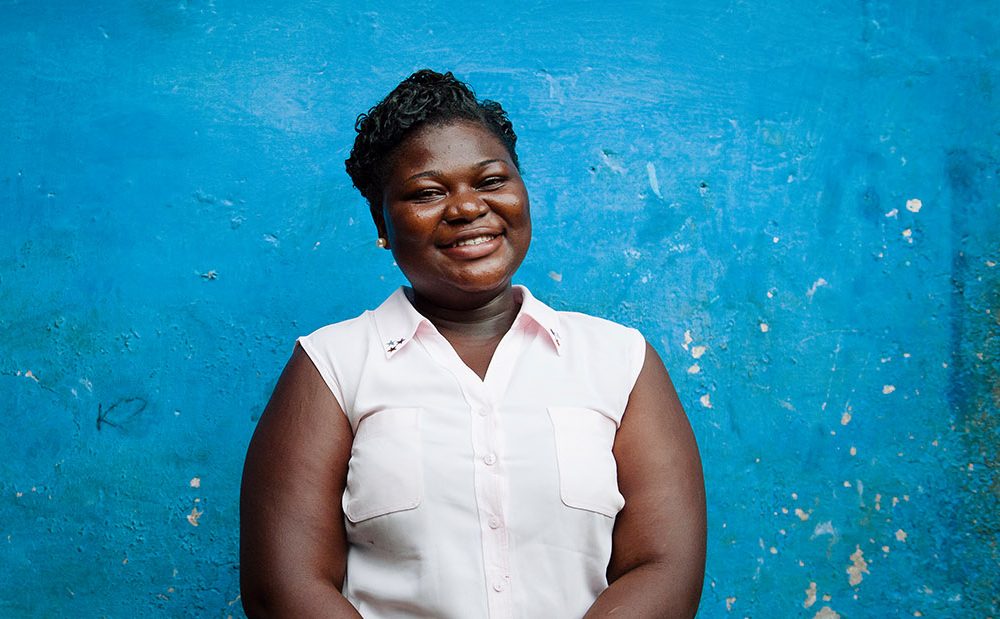 Pearl
CAMFED Association leader, Ghana
Pearl grew up with her grandmother, who did what she could to provide for Pearl and her two brothers by selling produce that they grew on a small patch of land. However, there was often not enough to sell, and the family struggled. Facing huge financial difficulties, Pearl went without many of the basic items she needed for school. Many times, she had to rely on the kindness of her teachers to give her books or money, but was determined not to let anything get in the way of her education.
I enjoyed school. I loved reading…I just loved everything about school so didn't want to forfeit it for anything.
Then Pearl was selected for CAMFED support, allowing her to complete senior high school. She was provided with school fees and basic school materials, and supported to stay in a boarding house close to school, so she didn't have to walk for miles every day.
In 2014, Pearl joined the CAMFED Association (CAMA) – the network of women leaders educated with CAMFED support – and is now a pillar of the organization. She became a Learner Guide in the same year, returning to her home district to provide life skills lessons to students at her old school, to ensure that other marginalized children also had a chance of completing their education and succeeding after school. As a Learner Guide, she mentors students and delivers the My Better World life skills and wellbeing program, which drives up students' confidence and knowledge, and helps them to set goals and achieve them. Pearl also volunteers to invigilate exams.
The Learner Guide Program is a means through which CAMA (the CAMFED Association) is addressing needs of students in my community and across Ghana. Through the life skills curriculum we are able to address or tackle issues of the students.
As a CAMFED Association member, Pearl has led various campaigns and activities which focus on advocating for the importance of education. She also runs information sessions on the effect of teenage pregnancy and child marriage – two of the biggest issues in her community – to try and raise awareness and keep young women safe. Pearl's influence as a CAMFED Association member has not gone unnoticed and she has been elected as the Chairperson for her region, Mfantseman. This means that she oversees other CAMFED Association chapters in her area and leads many other members in activities which promote girls' education.
Not stopping there, Pearl is also an entrepreneur and a university student. She is reinvesting the profits of her business, which provides ice blocks to local fishermen to keep their produce fresh, into her village.
Pearl works with traditional leaders, school leaders and families to address poverty and gender inequality, and bring about lasting change in her community.
Girls without education tend to get married early, resulting in health complications, and in turn the poverty cycle revolves again and again and again.
Pearl is committed to improving both her community and her country by investing in girls' education. She works alongside traditional leaders, school leaders and families to ensure that vulnerable girls are identified and provided with support to remain in school.
However, her efforts to invest in her community do not end with vulnerable children – she is also working to help the elderly. This year, she rallied support from local businesses to donate food items to those who are struggling.
The world we live in is not a matter of having…it's about giving. I am not only dreaming about changing the world. I am changing it.
Pearl realizes that her life may have been very different without CAMFED's support, one where she may have struggled financially, becoming dependent on others and forced to do menial labour to survive. As a result, she now wants to support as many girls as possible to ensure that their futures are bright.  Together with fellow CAMFED Association members, she has identified girls who have dropped out of school due to financial difficulties. By clubbing together, they have been able to provide the necessary fees and school items to return the girls to school. 
Pearl is a voracious changemaker in her community and, with her fellow CAMFED Association members, a powerful force for change across Ghana and across Africa. 
On International Women's Day 2018, Pearl was featured in a Q&A with former First Lady of the United States, Michelle Obama. Read all about it here.