Our progress toward educating one million adolescent girls
CHARGE is co-led by No Ceilings: The Full Participation Project and the Center on Universal Education at the Brookings Institution. This pledge also coincides with the UN Global Goals on ending poverty and fighting injustice and inequality by 2030.
CAMFED has released our Key Performance Indicators (KPIs) for 2015, detailing continued growth and influence in the five Sub-Saharan countries in which we operate: Ghana, Tanzania, Zambia, Zimbabwe, and Malawi. We are not only on track to reach the initial goal announced at CHARGE, but are more than a third of the way to the total.
 Read the full announcement here. [hyperlink to downloadable PDF or press release]
With the release of its latest impact metrics, CAMFED (the Campaign for Female Education) is raising the bar for what can be achieved in girls' education in sub-Saharan Africa. Through its extraordinary partnerships with alumnae and their communities, the NGO is able to reach nearly three times as many adolescent girls as through bursaries (scholarships) alone.
Girls supported to go to secondary school since
CAMFED made its 'million girl' pledge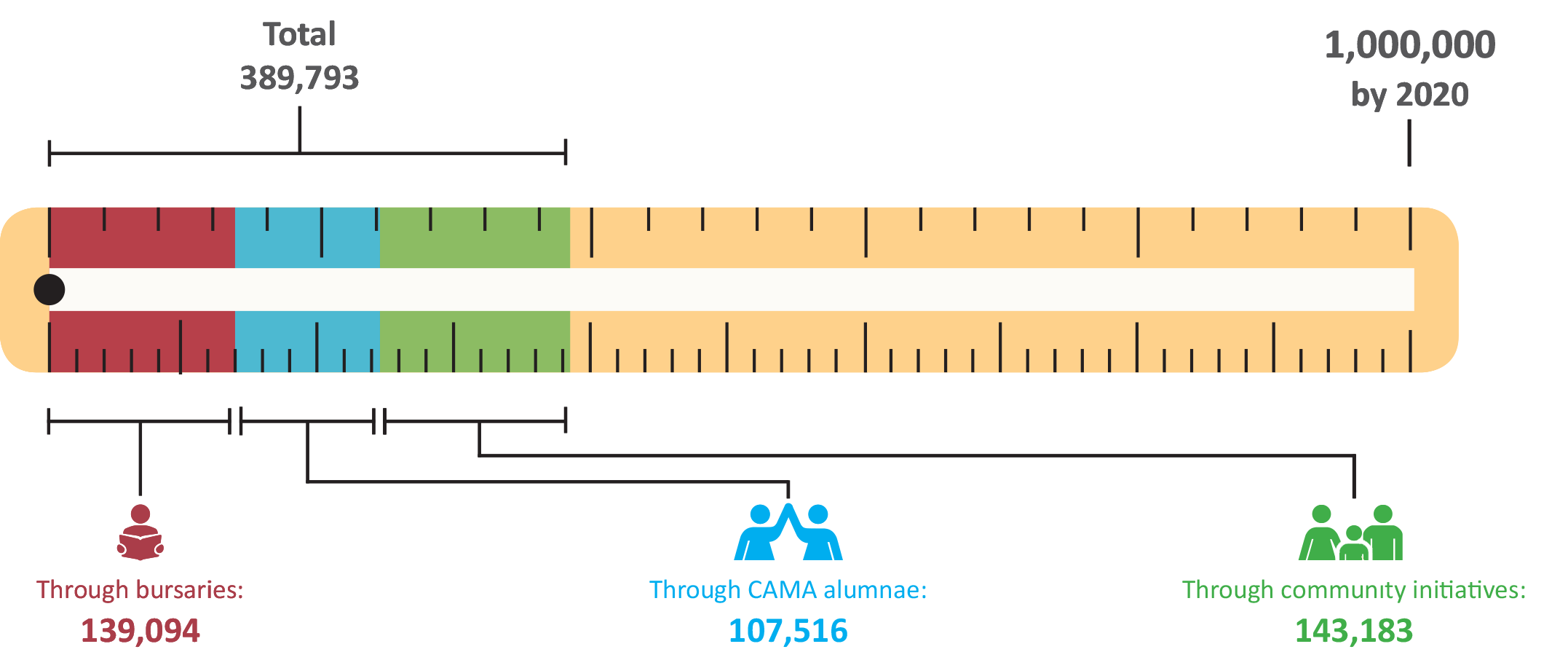 "Nothing is more important than unleashing the power of girls and young women through education," says Lucy Lake, CEO of CAMFED. "All of the global goals depend on active participation of half the world's population.  At the recent Girls' Education Forum, CAMFED highlighted its commitment to supporting one million adolescent girls to go to secondary school by 2020, and today we are reporting on our progress.  We are demonstrating the incredible multiplier effect of a model that works within the government school system and with community activists, creating crucial support networks around girls."
CAMFED made its pledge in late 2014 as part of the CHARGE (Collaborative for Harnessing Ambition and Resources for Girls' Education) Initiative.  CHARGE is co-led by No Ceilings: The Full Participation Project and the Center on Universal Education at the Brookings Institution.
By early 2016, CAMFED had supported 389,793 adolescent girls at secondary level in some of the poorest rural communities in Ghana, Tanzania, Malawi, Zambia and Zimbabwe in partnership with 5,306 government schools. Key to its approach is developing a sustainable, community-led model that changes the context for girls for good.
"CAMFED's growth and impact is being multiplied by CAMA, our 55,358 member-strong alumnae network," says Dolores Dickson, CAMFED Regional Director – West Africa.  "In line with our goal to create a sustainable model of opportunity and community support, these young women and our community partners supported more than 60% of the girls at secondary level alone. Together, we truly are the Campaign for Female Education."  
Quality, not just quantity
For CAMFED, it's not just about getting girls into school. By partnering with alumnae, schools and officials to deploy complementary life skills curricula and psycho-social support structures in poorly resourced rural government schools, CAMFED is pushing up girls' learning outcomes, school retention and progression rates. As young women join the CAMA network, they gain access to training, technology, business loans, and peer support during the vulnerable time after school, helping them to transition to productive livelihoods, while becoming mentors and role models in their communities.
"CAMFED has been a leader in girls' education and equality for more than 23 years," says Lucy Lake. "We take our role seriously by putting together hearts, minds and experience for the service of girls and women. We've seen that providing girls with the education and skills they need, empowering them to succeed, and to in turn support their communities, creates astounding returns on investment."