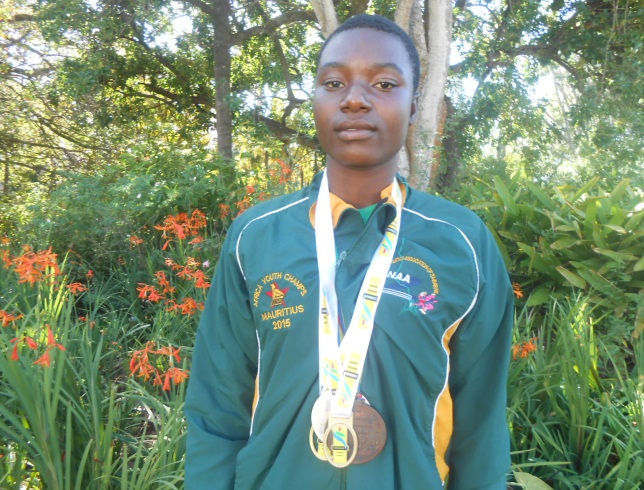 Huge congratulations to 16-year-old Nomatter, a shining athletics star! The Camfed bursary student from Rushinga District in Zimbabwe won a silver and a bronze medal in the 400m race at the 2nd African Youth Championships in Mauritius this April.
She went on to beat her best at the COSSASA Athletics championships in Lesotho in May, and will be on her way to represent Southern Africa in the 400m in Colombia this July.
Nomatter lost both of her parents at a very young age, and was living with her frail grandmother when she was first selected to receive Camfed bursary support, starting at Form 1 of secondary school. She is now living with her uncle. Nomatter's potential as an athlete has been evident since primary school, when she participated at provincial and national athletics competitions. In 2014, she took part in the Confederation of School Sports Association of Southern Africa (COSSASA) competition in Botswana, and the Africa Youth Games in Bulawayo.
This year, from 23-26 April 2015, she participated in the 2nd Youth African Championships in Mauritius, where she won a silver and a bronze medal, completing the 400m race in 58.11 and 59.03 seconds respectively. She proceeded to Lesotho from 27 April – 3 May, 2015, where she participated in the COSSASA competition. Beating her best by running 400m in 56 seconds, Nomatter has now qualified for the next round, which will take her to Colombia in July to represent Southern Africa.
Everyone at her school, in her community and at Camfed is so proud of her, and we wish her all the best for the next competition!
Read more on Athletics Africa: From Rushinga to Cali – The Nomatter Kapfudzaruwa story