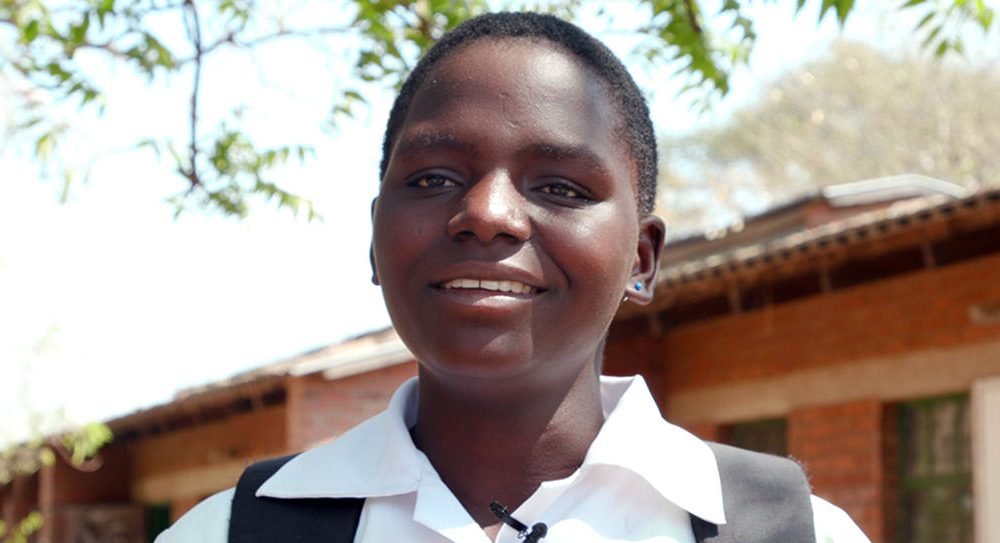 Mphatso
Secondary Scholar, Malawi
Mphatso lives in rural Malawi and is the third born in a family of five children. Her parents struggled to find paid employment and could barely afford basic school-going costs for Mphatso. Her future was uncertain and she often worried about how she would continue her education.
I see many problems in my education because my parents are not able to pay my school fees because they are not employed. And here in school I have not many books or exercise books that can help me.
Mphatso was identified by members of her local community in the CAMFED Development Committee as being at risk of dropping out of school. CAMFED, through its partnership with the Mastercard Foundation, stepped in to provide her with holistic support, including school fees and supplies, such as uniforms, books, sanitary wear, and pens. Mphatso remembers feeling so happy when she heard she had been selected to receive support.  She can now focus on her studies without anxiety about her future.
When the support is found, my future can be a bright future, because I can achieve what I want.
Mphatso enjoys Chemistry, Physics,  Biology, and Math. Inspired by another girl in her community from a similar background, who became a trained nurse, she too aims to become a healthcare professional. Mphatso feels that she can also become a positive role model in her community, so she's pleased to continue in school and reach her dreams. 
I have confidence to achieve… Education is the key to success!
"I have confidence to achieve… Education is the key to success!"
Malawi suffers from a critical lack of female teachers, meaning girls who are able to get to school often lack the role models to encourage them to stay.  CAMFED works in partnership with communities to change this, by dismantling the barriers to girls' education and supporting school leavers to become leaders and role models. 
In every CAMFED partner school there is a trained Teacher Mentor, often female, to provide guidance and emotional support to vulnerable students. Teacher Mentors work with other stakeholders, including graduates in the CAMFED Association (CAMA) who volunteer their time as Learner Guides to mentor younger girls and drive up school attendance and learning outcomes. 
When you finish your education, you can be employed and you can help your family because you have money to support your family.
Mphatso is positive about her future, and when she finishes school, she plans to join the CAMFED Association (CAMA), a powerful peer support network active across five countries. This is the largest leadership network of its kind in Africa, which supports young women to transition from school to secure livelihoods, as they give a hand up to the next generation of vulnerable girls and boys.