The Minister of Education launches partnership in Malawi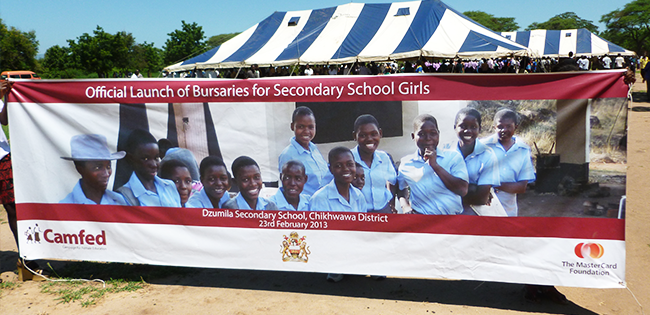 As hundreds of people gathered in Chikhwawa, the season's rains held off and the sun shone brightly on our celebrations.
Reeta Roy, President and CEO of The MasterCard Foundation had reminded us of an old Malawian saying that,
And on this special day, everyone played their part in showing the seriousness they attach to girls' education. Government and traditional authorities united in their call for the education of every child.
The guest of honour, the Minister of Education, Science and Technology Mrs Eunice Kazembe reminded everyone how "it takes many players to raise an educated and responsible citizen" and of her commitment to the cause, "…as a female Minister, girls' education and young women's empowerment are dear to my heart. The two in turn enable young women to become role models, access decision-making platforms, and influence programmes and policy at local and national levels." Read the Minister's speech here
Chifundo Gloss demonstrated the truth of the Minister's words with her own powerful speech. As a client of CAMFED's programme, and now a confident young woman on the threshold of her adult life, she told everyone her story as the seventh born in a family of ten and ended on a top note:
We are thrilled to launch the partnership with The MasterCard Foundation to support 1,275 girls throughout secondary school.
We echo the thanks of the Honourable Minister – "Problems of educating a girl child are real but we know that, with more girls educated, poverty in Malawi can become history. We thank you for your support."
With warm wishes,
Angeline Murimirwa
Executive Director
CAMFED Zimbabwe and Malawi