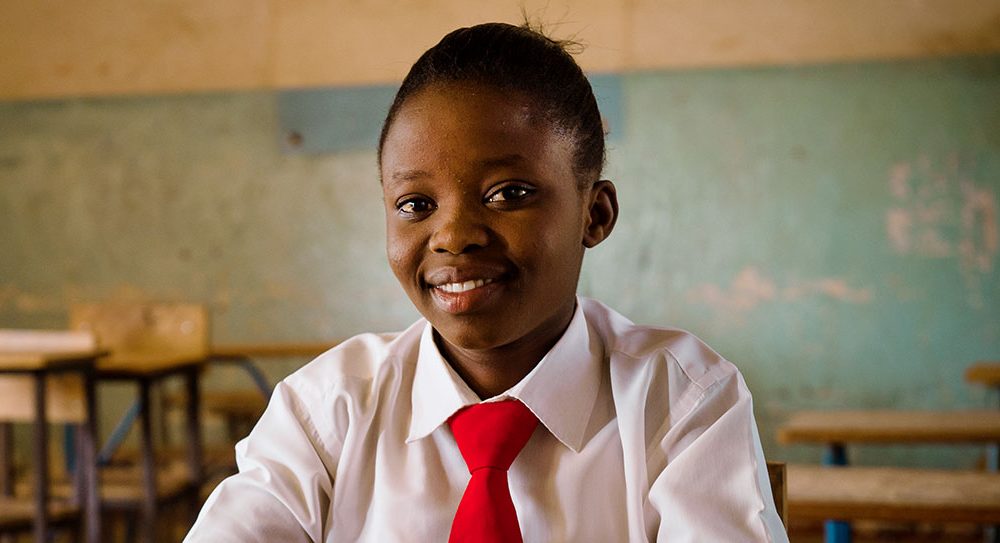 Melody*
Secondary Scholar, Zambia
Melody grew up in rural Zambia with her parents and three siblings. When Melody was just three years old, her father died. With four children to take care of and no stable source of income, Melody's mother struggled to provide for the family. Often, her mother simply couldn't afford to buy Melody basic items like sanitary pads or books for school.
Despite these challenges, Melody was determined to stay in school, and had her sights set on going to university in order to become a journalist. Melody's dream hung in the balance against the reality of her family's financial situation. And much worse, with the acute poverty that her family was facing, Melody was at risk of becoming a child bride.
If I had not been selected as a CAMFED scholar, by this time maybe I would have been married, because of the challenges I was facing.
When Melody's mother found out that her daughter had been selected as a CAMFED scholar, she was so happy that she went to meet with CAMFED's staff in Zambia to thank them personally. For Melody, the best thing about being a CAMFED scholar was having everything she needed to stay in school and learn. "The most important items for me are the pads, because when I have my period at school, I can wear those pads so in class I can be comfortable". As well as pads, CAMFED provides Melody with books, pens, uniform, and her school fees.
Education is very important because my mum keeps telling me that when you educate a girl child, you educate the whole nation… I think that as well!
With CAMFED's support, Melody's dream of becoming a journalist has been revived. She sees journalism as a way to communicate the issues from remote rural communities across the nation, and even the world. "When I see those people who read the news it just touches my heart, and I hope one day to be like them… of course I will be like them!" Currently, Melody's favourite subjects are English, and Social Sciences, and she loves having friends at school who are able to help her with Math from time to time! After she graduates from high school, Melody plans to apply for work experience with local news stations, and then go on to pursue a degree at the University of Zambia.
My future now is bright because I am able to go to school! I need nothing more, because education is important for success. My future is just waiting for me so I can reach it, and find it.
Inspired by the community philanthropy undertaken by other CAMFED graduates, Melody is already looking forward to joining the CAMFED alumnae association (CAMA), when she finishes school. CAMA is a powerful network of young women graduates, dedicated to plowing the benefits of their education back into their communities. In Melody's district, CAMA members are hard at work delivering sensitization programs, assisting senior citizens, volunteering in local schools, and mentoring their younger peers. CAMFED also trains CAMA members as GirlGuardians to bring their expertise into local schools, making sure vulnerable girls get the support and life skills they need to stay in school and out of child marriage, and to succeed and lead after school.
I've learnt something from CAMFED, and I am grateful for the things they have done for me. The most important thing for me, after I finish school, is just to do something good for those who are in need, because I know what they went through.
Like so many girls in sub-Saharan Africa facing severe poverty, Melody struggled to keep a grip on her education. Her lived experience of the issues that girls face in staying and succeeding in school is why she is so motivated and perfectly placed to guide the next generation of girls through their education. As a journalist, Melody hopes that she will have the resources to look after her parents, siblings, and grandparents, and go one step further to help the wider community by building an orphanage and providing basic school needs for marginalized children.
*Melody's name has been changed in order to protect her identity.