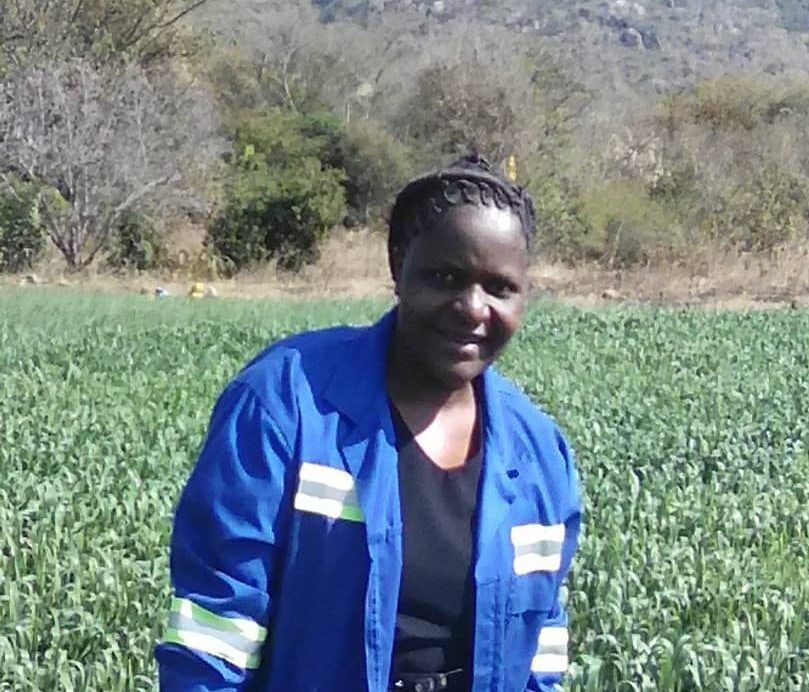 Mary
CAMFED Association member and Sustainable Agriculture expert, Zimbabwe
I grew up in Nyanga district, Zimbabwe, in a family that was too big and poor. I took on a lot of responsibility in my early years, which made people assume that I was the eldest child. I had to find casual labor to help support my education. Once, my mother and I worked for two weeks on a farm, and all we were given in exchange was a piece of cloth. 
I almost dropped out of school at the age of 14 but CAMFED (which had recently been founded in Zimbabwe) stepped in to support me at secondary school. This came as a relief to my family, though my mother still struggled to make ends meet and support my siblings in their education. 
She would often work on other people's farms in exchange for money, food or a gift in kind. Another way of generating income was molding bricks at the nearest primary school, in full view of the students, who were classmates of my siblings. 
Every weekend, I would carry a basket of tomatoes or onions on my head, and make a 7 kilometer (over 4 mile) journey from our house to sell them at the market. 
Despite these struggles, I developed leadership skills at school, and was appointed as a Prefect from Forms 2 to 4 (the second, third and fourth years of secondary school, which Zimbabwean children typically start at the age of 13). After graduating I joined the CAMFED Association of women leaders educated with CAMFED support. 
I was elected as first District Chairperson of the CAMFED Association in Nyanga district. I also served at the National Level as Committee Member for the CAMFED Association Board, drawing on my experiences to shape the network's founding principles. 
In 2014, through CAMFED, I got the opportunity to go on a six-week intensive course in sustainable agriculture at EARTH University in Costa Rica, with a group of my CAMFED Association sisters. All from farming communities, we learned more about crop and animal production, waste management and renewable energy, as well as building up our leadership, teamwork, and community development skills. 
When I returned home, I set up my own enterprise. I felt more confident to plan ahead, select crops to plant at different times of the year, and also grow in between seasons to enrich the soil and get more from the land in a non-intensive way. Previously, mono-cropping was the norm, but in order to maximize output and make more money while protecting soil quality, I combined maize and beans with potato farming. In just over a year after the course, I was growing potatoes three times per year, instead of the usual once. 
Some of the ways I ensure my continued success is to study market trends, intercrop with produce that is in high demand, and supplement crop production with animal husbandry. I keep goats and cows, and package their milk for sale. I supply my local community, the Grain Marketing Board, and sell my produce in the capital city, Harare.
I'm committed to helping others to farm in a way that benefits them and their families, as well as our environment. Through mixed cropping, drip irrigation, and the use of cover crops, I encourage my fellow farmers to conserve water, minimize erosion, and improve the nutrient content of the soil. I also promote the use of recycled materials. 
A major part of my field work is training young women on climate-smart agriculture techniques, including practical demonstrations and supporting them to practice using the techniques. Through this training, I equip households to adapt to climate-related challenges such as increased incidences of extreme weather events and pests and erratic rainfall patterns that impact livelihoods.
Other aspects of my field work include mentorship to animal farming groups; community training on tree-planting to conserve soils and tackle deforestation; identifying income-generating resilience projects, such as small ruminant production; and sharing these ideas with peers and communities.  The combined aim of all of my efforts is to catalyze community climate action and inspire similar action in surrounding districts.
In 2022 alone, I reached 3,000 young women in Nyanga District, Zimbabwe, with support to build resilience and adapt to the effects of climate change. Together with other CAMFED Association Guides – young women previously supported by CAMFED who volunteer their time to support others in rural communities –  I have partnered with Education and Agriculture ministry stakeholders to cascade my climate change expertise. In the same year I managed to reach 300 agricultural workers and 200 schools.
I have also partnered with the Environmental Management Authority in Nyanga district during clean up campaigns and to train communities to reduce field fires.
Through these collaborations, we share experiences and learn from each other. I support agricultural experts at district-level climate-smart agriculture demonstrations – which include showing women how to build and use Patsari/Tsotso stoves which emit less smoke and consume less firewood. Afterwards I go back to follow up and see it is really working – there is less need for fuel and women have fewer chores to do. 
As women are the primary caregivers in our rural communities, poor harvests caused by climate change add to their burden. They cannot feed their families and struggle financially to send their children to school. 
I train women with agribusinesses on how to successfully continue to run their businesses and make profit, despite the climate challenges. Vulnerable rural households and women are most affected by climate change, and supporting these individuals and households to build resilience and adapt to climate effects is the best hope we have to create thriving communities.
I have worked across 29 districts in Zimbabwe as well as in Malawi and Zambia. 
As well as running my main agriculture business, I recently founded an Early Childhood Development (ECD) Center. I don't see the two things as separate, because the children need nutritious food to support their learning. I have 23 students enrolled and have employed a trained ECD teacher. Two of the students come from disadvantaged backgrounds, so I offer them their places in school and their uniforms for free. It's my way of plowing back to the community. 
I'm proud that I've been able to support my own children in their education, too. I've taken my daughter all the way through university. And I am continuing my own learning journey all the time — most recently taking part in an online leadership program for people who are working on our environmental challenges. I hold certificates in Young Women's Leadership and Enterprise from the University of Cambridge and in Business Management from the Ministry of Women Affairs in Zimbabwe, as well as several gained through CAMFED.
My ultimate aim is for the communities I work with to be able to effectively address the challenges they face, such as food insecurity, and adapt and improve their farming systems to cope with the changing environment.