Hold a CAMFED garden party
Why not throw a garden party of your very own and raise money to send more girls to school?
Throw a garden party for girls' education!
As part of the Campaign for Female Education's 25th anniversary celebrations, we are unveiling our first ever garden at the RHS Chelsea Flower Show!
We are really excited for this opportunity, and we want you to join in the festivities! So why not throw a garden party of your very own and raise money to send more girls to school?
Planning your event
Hold it in your own garden, a friend's roof garden or rock up to the local park. Choose a date (make sure to check the weather) and invite your guests to join you. You can get your friends to bring a dish or cater it yourself.
We have plenty of fun resources to help you get started, just download what you need.
At CAMFED we are always trying to do everything in the most sustainable, climate-conscious way possible, so we've decided not to send out packs full of paper and plastic. Instead, we've designed some amazing resources that you can print at home and digital assets to help you promote your event!
Why not follow our lead and invite your guests via email or social media? We've included images in the resource area below to make your invite stand out.
Remember: make sure to make it clear you are fundraising for CAMFED and tell your guests what we do!
Download our resources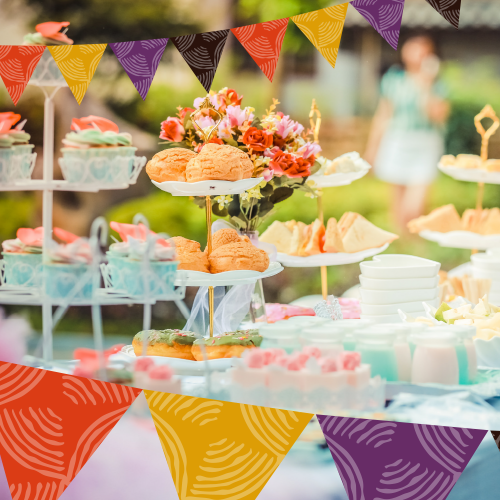 During your event
To raise funds for CAMFED from your party you could ask for a suggested attendance donation or ask for donations for food and drinks. You could screen a video from our website to help your guests understand our mission or print out a couple of the stories from girls and women supported by CAMFED.
We can't wait to see your party pics! Don't forget to post about your party online, tag us using @camfed and use the hashtag #SeeGrowth.
After your event
Once you've collected all the cups from your hedge, count up the donations your generous loved ones have given. Bank them into your own account then use our online form to pay in the total. Be sure to select 'Paying Funds' from the drop-down so we can be sure to thank you!
Pay in funds
Download our helpful resources
Customize these posters to promote your event then update attendees on the amount of funds raise after. 
Print our bunting, cut it out and string it up. It's that easy to add some celebratory touches to your event. 
Make it easy to price your bakes and raise extra funds for CAMFED with these printable labels.
See Growth
We launched this fundraiser pack in 2019 to celebrate our garden at the Chelsea Flower Show. Our campaign #SeeGrowth encouraged supporters to see the future of sustainable growth through girls' education and women's leadership in agriculture.
Why not share this video when promoting your event or screen it during. 
Watch on Vimeo