Celebrating the Audacity to Dream, to Question, to Lead

This week at the House of Lords, digital pioneer Martha Lane Fox gave Camfed a platform to show the world what's possible when young women become leaders of change in Africa.
Together we celebrated Camfed's alumnae network, CAMA, which is altering the 'default settings' for girls from poor families by forging a new pathway for them to get an education and get connected through technology.
In attendance were representatives of the UK government, international business leaders, thought leaders and philanthropists. Angeline Murimirwa, one of the first girls to receive support from Camfed to go to school, one of the founding members of the CAMA network, and now Camfed's Regional Director, inspired everyone by the possibility – and audacity – of change:
24 years ago, the thought of me standing before you in this room would have been outrageous – a daydream! Today girls and families in my community not only entertain the idea, but know IT'S POSSIBLE.
The reason they know this is not because they have seen a few examples of women who have broken out of their context – they know this because together we are working to change the context for the most marginalized girls, young women, and their communities in Africa.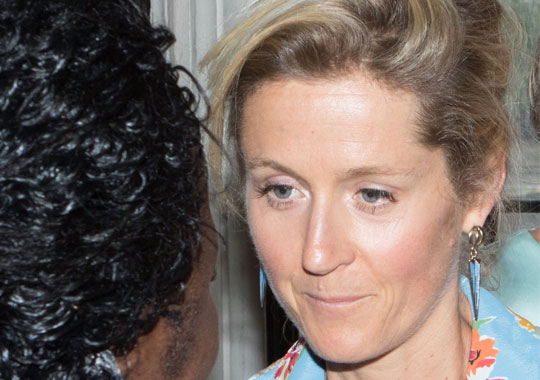 I come from a context where the only choice was between food and education; where whole communities grew to believe that their place was at the bottom of the pile, that things would never change. Poverty is a psychological state, not just a physical one.
That is why we founded CAMA, a network for young women graduates to connect with each other, mentor each other, access training, technology and funding. We work within our communities demonstrating what is possible when you educate girls.
Because it isn't enough to pay a girl's school fees, and give her a uniform, then launch her back into the same context. We needed to change young women's prospects and their life choices, after school. To take away the feeling of inadequacy, the lack of choices, the isolation – and replace it with a situation where, together, young women change the default settings poverty has imposed.
Take Jemima, a CAMA member from Ghana. From a poor rural background, she was supported through secondary school, and then dared to dream of not only attending university, but studying medicine. During an interview with the selection panel she was told in no uncertain terms that her 'kind' should not punch above their weight –she had neither the background, the money, nor the connections to make it. Tragically, her father agreed that she was aiming too high. He had been put down all his life. Like parents across rural Africa, he just wanted to protect his daughter.
But Jemima would not be told. Thanks to CAMA, she had developed a new sense of self-belief, and the audacity to dream. She refused to accept the limitations imposed by poverty. Through CAMA, she secured the funding, and is currently in her second year at university, studying to become a doctor. Jemima recently addressed over 2,000 young women school leavers in the Cape Coast. She told them that they too can do it! By her very actions, and the moral and financial support she received, she changed her own default setting – and those of the people she touched… she changed the definition of what is possible for a rural girl, family and community! She gave others the freedom to dream and pursue.
Or take Ayisha, a young woman whose mother, a subsistence farmer, tried to make a living selling shea nuts at the bottom of the supply chain. Ayisha, supported by Camfed and CAMA, started researching the industry. She had the audacity to question the practices that kept the middlemen and the producers rich, and their women suppliers poor and vulnerable. She set up her own shea butter business, and organised a cooperative of women. She provided training to improve the quality of their output, and a market for their produce. She paid fair wages. Ayisha already employs over 200 women in her district…200 women who can now support their families and send their children through school. She has changed the default settings for rural women and for this sector of the rural economy.
We call this the CAMA multiplier effect. It is not enough for us and our families to be OK. Because we have lived poverty, we empathise; we can transform lives beyond our own. And we are doing this with the support of our communities, not in spite of our communities.
Last year we launched a new programme to reach even more vulnerable children. Together with young people in Africa we developed an innovative life skills programme called "My Better World." The programme is now being delivered by over 2,500 CAMA members, working as Learner Guides in their local schools. It addresses the psychology of poverty head on. It teaches children to value themselves, set goals, deal with grief and the many barriers a life of poverty throws in their way. Already this programme has reached over 87,500 students across 1,009 partner schools. It is transforming the lives of young children, and the status of CAMA members in their communities. Remember, these are young women whose lives would have been lost to early marriage and early pregnancy; young women condemned to a hard life of manual labour.
Young women like me. I am now part of a movement of 33,111 educated African women – soon there will be 130,000 of us. CAMA Zimbabwe alone will double in size this year. In one year we need to support as many young women as we supported in the last 15 years.
The opportunity is immense, because together with this network Camfed has pledged to support one million girls through secondary school in the next five years. The challenges marginalized girls face every day remain real. But CAMA members are ready to lead the charge.
Imagine one million advocates for change, making the difference between Africa spiralling in poverty or leading a brighter future. Imagine how you might be a part of this amazing movement. Together, we can change the default settings for individuals, families, and their communities. And we will. Because, as I remind myself every day, "We have been through a thunderstorm, so showers won't frighten us."