Supporting young women into Technical and Vocational Education and Training
CAMFED Ghana is supporting a new national campaign launched by our partner the Council For Technical And Vocational Educational Training (COTVET).
The campaign is being rolled out to challenge negative perceptions of Technical and Vocational Education and Training (TVET), to increase enrolment in TVET institutions, and thus support young people to gain the skills they need to secure their livelihoods, while contributing to Ghana's development. With the economic fallout from the coronavirus pandemic yet to be determined, and youth unemployment a significant challenge across sub-Saharan Africa, this comes at a critical time.
Technical and vocational training provides young people with the skills they need to readily find employment across a variety of industry sectors, including construction, power and energy, sanitation systems, agro-processing, hospitality, clothing and textiles, as well as metalwork and fabrication fields. Yet enrolling on TVET courses has not been popular among Ghanaian students. Many young people prefer to pursue mainstream courses in business administration, arts or sciences, for example. For women there is an additional barrier to participation, because the sector caters to historically male-dominated fields. Yet employment opportunities for TVET students can be significantly higher than for other tertiary graduates. This new campaign is all about getting young people enthused about new skills-based training options, as well as breaking down gender stereotypes.
CAMFED Ghana will be supporting the five components of COTVET's campaign to introduce young people to a variety of skilled careers: Skills competitions; career guidance and counselling; a TVET ambassadors' program featuring peer role models; the formation of TVET clubs in junior high schools; and promotion of TVET and TVET materials through communications.
Our commitment to support TVET aligns with CAMFED's partnership with the Mastercard Foundation for the implementation of the Young Africa Works strategy in Ghana, where CAMFED seeks, over the next three years,to equip 210,000 young people (girls and boys) with work-readiness skills, and directly enable 120,000 young people to secure dignified and fulfilling employment.
The anticipation is that 70 percent of jobs will be for women, and over 65 percent will be newly-created through young women's entrepreneurship, adding to the pool of employment opportunities for Ghanaian youth. CAMFED aims to reach 3,250 young women with the support they need to start and grow businesses in the TVET space.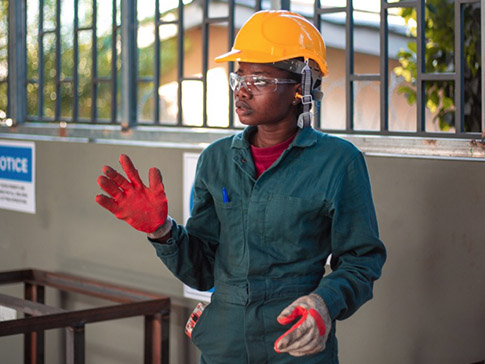 Leticia is studying welding and fabrication at the Design Technology Institute in Accra, with the aim of becoming a commercial artist after she graduates.