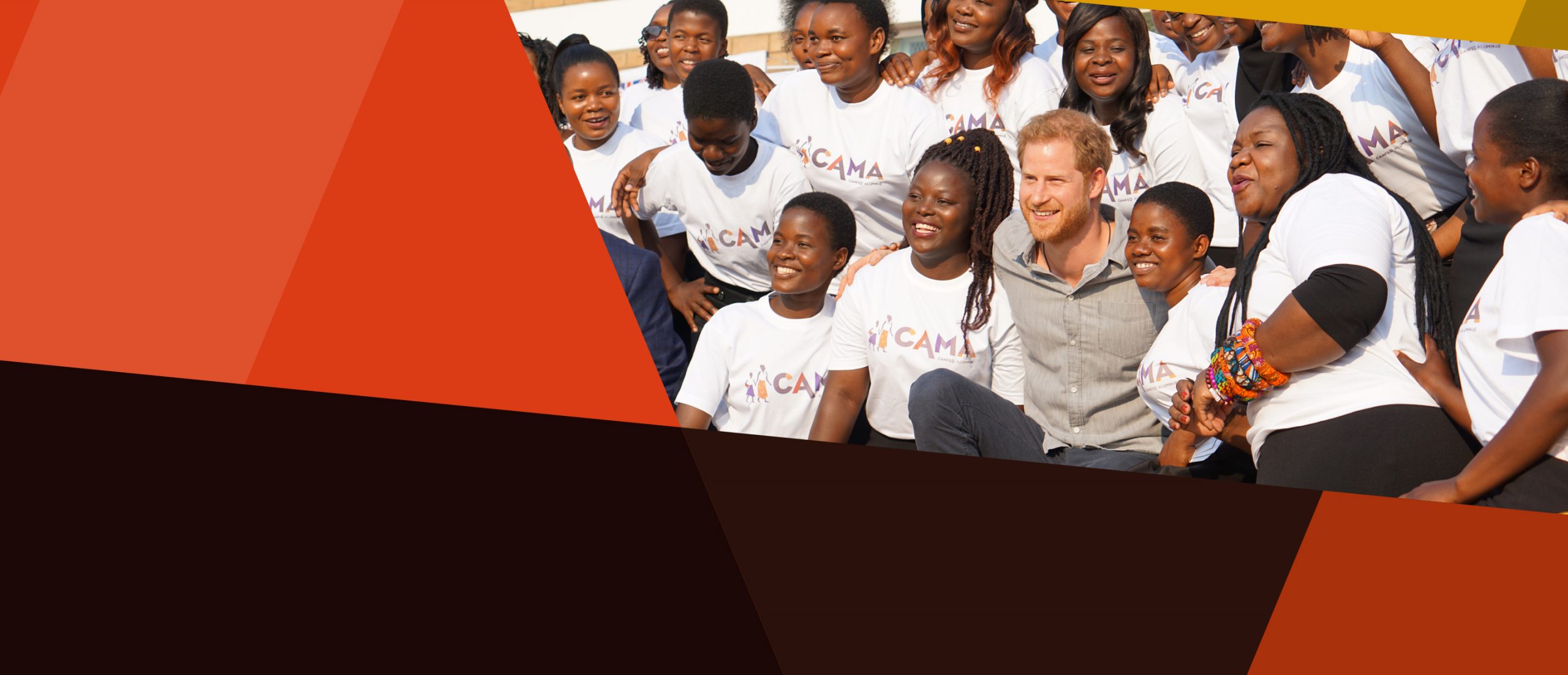 The Duke and Duchess of Sussex meet with CAMFED Association leaders in Malawi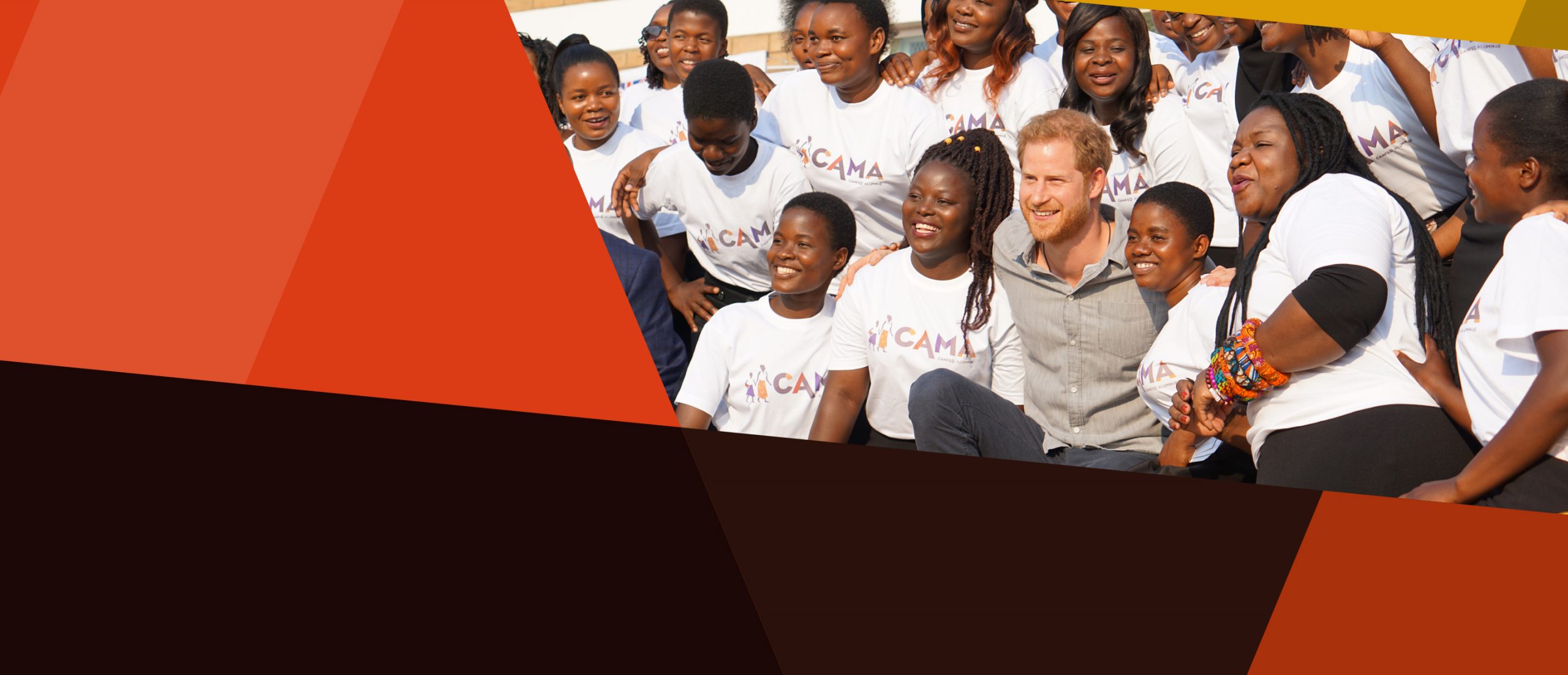 Yesterday, leaders in the CAMFED Association, CAMA, gave a rousing welcome to The Duke of Sussex in Malawi.
His Royal Highness came to meet nearly 50 young women in CAMA at a special event in Lilongwe, and thrilled the audience when he introduced The Duchess of Sussex, who joined via live link from South Africa. As President and Vice-President of The Queen's Commonwealth Trust (QCT), both were keen to hear an update on CAMA's work in girls' education, since the Duchess' last meeting with CAMFED Executive Director Angeline Murimirwa on International Women's Day 2019, and Prince Harry's meeting with CAMA leaders in Lusaka, Zambia, in November 2018.
Among the dignitaries present was the Secretary of Education, Science and Technology, The Hon. Justin Adack Saidi, who addressed the audience at the beginning of the event, underscoring the Ministry's commitment to quality education.
Luwiza Phiri, the CAMFED Association's National Chair in Malawi, where the network now numbers 17,530 (out of 140,000 young women leaders across five countries) spoke about the growth of the Association, its governance, and the thousands of children our young leaders are now supporting, paying forward the benefits of their education, supported through The Queen's CAMA Commonwealth Fund.
Read Luwiza' words here
Rose Alexander, a Core Trainer of CAMFED Association Learner Guides and advocate against child marriage, explained how she and her CAMA sisters rallly communities in the fight against early marriage, working to annul marriages and return children to school.
Read Rose's words here
And Fatima Frank, who is also a Core Trainer of CAMA Learner Guides, and is studying to become a teacher, described how important educated young women are as role models and mentors to vulnerable children, supporting their learning, and delivering life skills, enabling educated women to succeed after school.
Read Fatima's words here
The session was led by Angeline Murimirwa, CAMFED Executive Director – Africa, and one of the first young women supported to go to school by CAMFED in Zimbabwe. She was joined by Nicola Brentnall, CEO of The Queen's Commonwealth Trust, and David Beer, Head of the UK Department for International Development (DFID) in Malawi. Both organizations are investing in girls' education through CAMFED, supporting the expertise and leadership of thousands of CAMA leaders like Luwiza, Fatima and Rose, ensuring that they can reach tens of thousands of vulnerable children in their communities.
Angeline voiced her thanks to The Duke and Duchess of Sussex for their unrelenting support for young leaders, and – addressing The Duchess via video link – said, "Since you yourself were a young girl you have advocated for women as equal beings with the power to make lasting change, and I know this is something you will instil in Archie.
I always think of a saying in my local language, Shona 'Chinonzi rasa ndechirimumaoko kwete muropa.' It means 'You can only be told to throw away what is in your hands, not what is in your blood.'
The fact that you care, that you advocate, that you shine a light on this and always have done, means so much. "
Watch some of the global video and TV coverage here:
ITV Documentary:  Harry and Meghan: An African Journey
Sky News Video:  Royals join celebration of girls' education in Malawi
ITV News Video:  Duchess of Sussex pays tribute to Malawi female education advocates in video call
Harpers Bazaar Video:  Meghan Markle Skyped into Prince Harry's Meeting While Archie Was Napping
Hello! Canada:  Duchess Meghan makes surprise appearance via Skype as Prince Harry steps out to support girls' education in Malawi
Evening Standard Video:  Meghan makes Skype appearance to pay tribute to women's 'vital' support of schoolgirls in Malawi
Marie Claire:  Meghan Markle Skyped a College in Malawi to Support a Campaign to Educate Girls
Read about the Campaign for Female Education's recent UN Global Climate Action Award in Salon