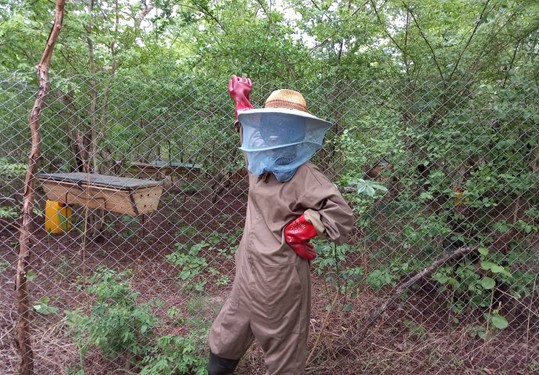 Caroline
Apiarist and entrepreneur, Ghana
My name is Caroline, I am from the Upper West Region of Ghana and currently a District Program Coordinator at CAMFED Ghana. I am the founder of my business, Royal-Avielle Ventures and we produce honey. I started my business in 2021 after I found out that honey bees are responsible for pollinating 70% of crops and are vital to human existence.
With support from CAMFED and the Mastercard Foundation Young Africa Works program, I started out with three hives. Now my business has expanded to 27 hives and I have four team members who are responsible for the safety and development of the farm and I also employ over 10 casual workers.
I have big ambitions! I hope to increase the number of hives to two hundred within the next two years and establish two additional farms in other communities in the Upper West Region.
In the future, I would like to diversify into other crops such as cashew nuts and citrus plantations. These crops will help support the environment and make available nectar for the honey bees.
I am motivated to keep working hard and extend a hand to other women and young people within my community by creating employment opportunities for the youth which will help them become financially independent and reduce unemployment in Ghana.
I believe that collectively we can change the world!