CAMFED Announces Expanded Partnership with Kiva for Young Women in Rural Africa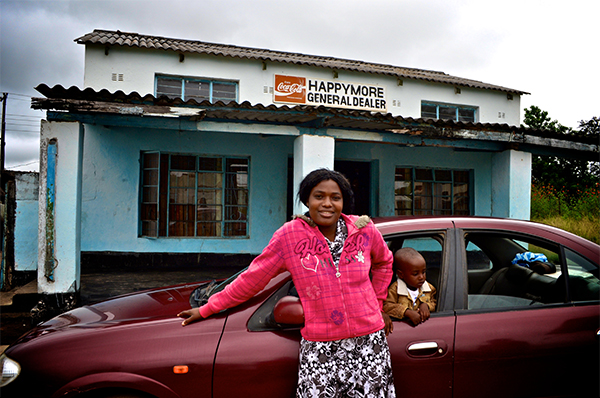 CAMFED Announces Expanded Partnership with Kiva for Young Women in Rural Africa
With over two million young people assisted through the CAMFED program, Kiva's added support is empowering young women to be leaders in business and creators of social change
San Francisco, April 15, 2014 – Everyone knows that any loan must be repaid with interest. But what if the interest didn't get repaid with money? What if the lender's interest was repaid through the creation of more opportunities for girls and women, and a break in the cycle of poverty? What if the interest is a promise of a better world?
Together with Kiva.org, CAMFED announced the second wave of a groundbreaking program that gives young women living in rural Zimbabwe loans to expand their businesses and become more self-reliant. CAMFED (Campaign for Female Education) is an international nonprofit organization that focuses on eradicating poverty in rural Africa by investing in education for girls and supporting the economic self-reliance and leadership of young women.
The loans to these young women are funded by everyday people lending just $25 at a time. Visitors to Kiva.org/CAMFED can browse through the stories and profiles of young women entrepreneurs and choose one that they want to support with a loan of $25 or more. When that woman repays, lenders can withdraw their $25 from the system or relend it to another entrepreneur on Kiva.org.
Loans to the Learner Guides average $500, a significant amount in a country where the average annual income is $400. The borrowers do repay the loans. However, in exchange for receiving capital and business training to expand their businesses, CAMFED borrowers repay the interest on their loans by serving as teaching assistants in local high schools.
Consider it "social interest" that generates social change.
Women who receive the loans commit to set, documented hours serving as teaching assistants. Borrowers help support girls in math, English and a Wellbeing Curriculum that covers critical skills including decision-making, problem solving, leadership, entrepreneurship, resilience, communication skills and empathy.
The partnership between Kiva and CAMFED started in Zimbabwe. In just seven short months, more than 2,000 Kiva lenders have funded a total of $137,000 to 273 Cama entrepreneurs. The success since the launch has prompted new rounds of loans to hundreds of women and an expansion into further countries where CAMFED operates. Tanzania will be coming online shortly, with Ghana and Zambia additional areas with thousands of Cama members whose leadership and entrepreneurship are thriving and ripe to expand. CAMFED plans to distribute 2,000 Kiva-funded loans by the end of the year.
Young girls enter the CAMFED program at the transition from primary to high school. CAMFED then provides funding and resources to help girls stay in school and succeed academically. Upon graduation, they become Cama alums, with access to business training and grants.
The new 'social interest' loans are helping to expand CAMFED's mission to create new generations of empowered women in Africa. The ultimate goal is to help young women break the cycle of poverty in their families, communities and countries. With a solid education and access to business opportunities, the programs make women more self-reliant and successful.
CAMFED's partnership with Kiva – a pioneer in microlending reaching millions of people worldwide – is just one more innovative strategy to help women to overcome the challenges that they face in rural Africa and become leaders. Camfed knows that education leads to greater health and prosperity. Research shows that educated girls are three times less likely to become HIV-positive, invest 90% of their earnings in their families, and have fewer and healthier children.
For more information please visit www.camfed.org and www.kiva.org/partners/305.
About CAMFED:
CAMFED, the Campaign for Female Education, fights poverty and HIV/AIDS in Africa by educating girls and empowering women to be leaders of change. Since 1993, over 2.5 million children and young people have benefited from CAMFED's innovative education programs in Zimbabwe, Zambia, Ghana, Tanzania and Malawi. CAMFED International is based in Cambridge, UK and Camfed USA is based in San Francisco. Visit www.camfed.org for more information.
About Kiva:
Kiva.org is a San Francisco-based nonprofit organization that connects millions of people around the world through lending to alleviate poverty. With as little as a $25 loan, anyone can help a borrower start or grow a business, go to school, access clean energy and realize their potential. Since its inception in 2005, Kiva.org and their growing global community of 1 million lenders have crowdfunded more than $550 million in loans to over 1.2 million people, with a 98% repayment rate. Visit kiva.org for more information.
Media Contact:
Ann Cotton
Founder and President, CAMFED International
[email protected]
+44 1223 362648
Brooke Hutchinson
Director, CAMFED USA
[email protected]
415-963-4489
Jason Riggs
Communications Director, Kiva.org
[email protected]
415-857-8668