CAMFED graduate to serve as advisor on global education policy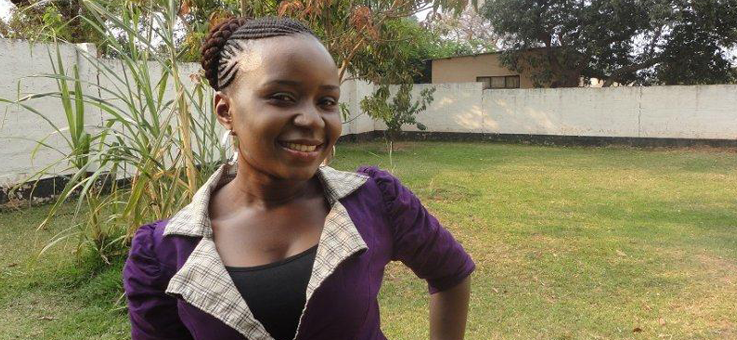 We're thrilled to announce that 24-year-old Abigail Kaindu, a former CAMFED bursary student, has been appointed to a top-level panel that will directly advise the UN Secretary General on global education policy. Abigail is one of just ten young people selected from around the world for the UN's Youth Advocacy Group.
The group will work with the United Nations on shaping education for the world's poorest children as part of Secretary General Ban Ki-moon's Education First Initiative, which launches today (September 26). Education First aims to transform the growing momentum around education globally into concrete commitment and action.
"The Education First Initiative is a wake-up call for every nation to start thinking about their people," says Abigail. "When we are there in comfortable homes, eating good meals, sleeping on comfortable mattresses, we forget about our people and we forget how many children are living in poverty without a chance to go to school. We want to make governments accountable for their people, for their well-being, and make sure that everyone has an equal opportunity to succeed in life."
Born in rural Zambia and orphaned at an early age, Abigail was raised by her grandmother, a subsistence farmer who struggled to keep her in primary school. She was supported through secondary school on a CAMFED bursary, excelled in her studies, and enrolled in business college as an accounting student.
Today, Abigail is a shining example of what is possible when a child's potential is unleashed by education. Her list of accomplishments is already astonishing and includes producing an award-winning documentary on domestic violence as part of a women's film collective, leading a team of financial literacy trainers that taught basic finance skills to over 10,700 disadvantaged rural women, and training young leaders on entrepreneurship as part of CAMFED's partnership with Goldman Sachs 10,000 Women initiative. She also won a U.S. State Department grants competition to bring innovation to AIDS prevention in Zambia by providing economic empowerment training to women.
Abigail is also emerging as an influential young leader on the world stage. In 2010, she was part of a select group invited to attend President Obama's Forum with Young African Leaders in Washington, D.C., and a year later, she joined a delegation of young African women who met with first lady Michelle Obama in Johannesburg to share their ideas for combating hunger and AIDS.
"This is a life-changing opportunity for me," says Abigail. "It's exciting to be part of an initiative with influential people like Gordon Brown and Ban Ki-moon, to know that my little voice will be heard at the table, and to know it will help make life better for my people back home."
Please join us in celebrating Abigail's success and the success of all our girls and young women who are using their education to achieve extraordinary things. We have so many amazing stories to share from recent months – stories about CAMFED alumnae who are being selected to attend the most prestigious learning institutions in Africa, such as the African Leadership Academy in South Africa, Ashesi University in Ghana, and University of Zambia; young women who are training to be teachers and role models for the next generation of girls; and a group of entrepreneurs from Ghana who just took off for India, where they will be sharing experiences with their southern hemisphere counterparts. Keep an eye on camfed.org for their stories!