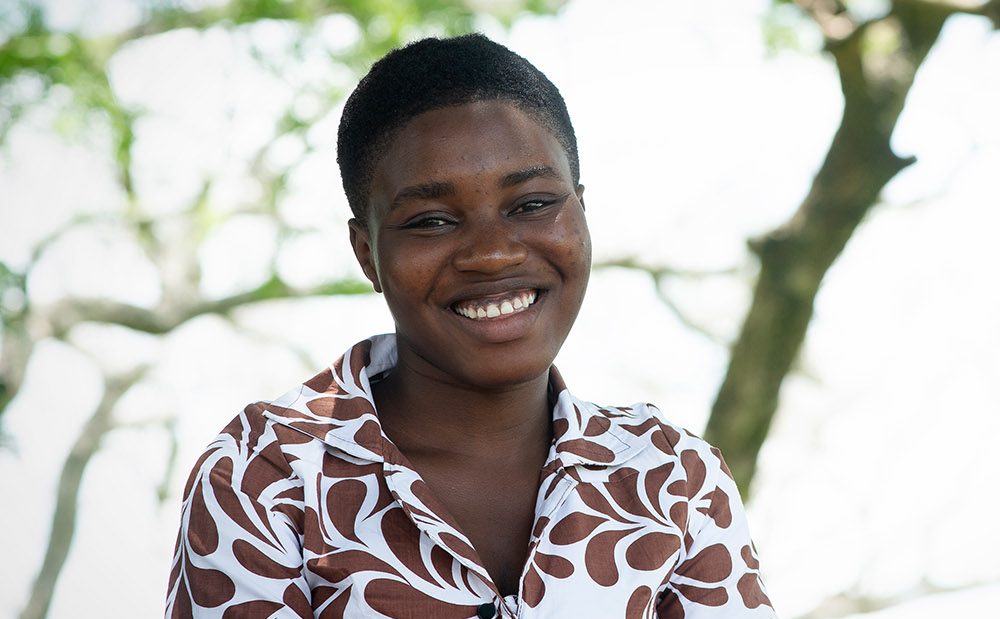 Blessing comes from a remote region in the far north of Ghana, where she lives with her parents, twin brother, sister and two nieces. Blessing loved primary school and particularly enjoyed English language classes and debating competitions. She desperately wanted to follow her sister (a CAMFED scholar) into secondary education, but with her parents reliant on subsistence farming to support the whole family, their income wouldn't stretch that far.
Then CAMFED and the Mastercard Foundation stepped in to support her secondary education. Blessing felt so happy that she could continue at school, and that the pressure on her family would lessen. With the burden of Blessing's school-going costs taken away, her parents could support her twin brother in education and her father was able to establish a milling business.
Education really means a lot… Working hard will not only change the perception [of girls] in my community, but also change the entire society at large.
Due to her rural home location, Blessing boards at school so she does not have to make the three hour journey each day. Her morning lessons begin at 6:30 am, followed by breakfast, and then continue on until 3pm. In the evenings Blessing completes her homework and still counts English as one of her favourite subjects.
Blessing has always looked up to her older sister, who worked hard at school and showed determination to improve her family's situation. Blessing shares this ambition for the future, and is interested in both Law and Journalism as career paths. She sees high-flying women on television, but rarely in her own community, so this is something she wants to change.
She says:  "So many women are being mistreated, sometimes by their husbands, and they don't have anyone to speak out for them. If I become a lawyer, those women in the community can confide in me." 
Already, Blessing has a strong sense of the importance of giving back to her community. She describes how her mentor Sheila, a member of the CAMFED Association (CAMA), has highlighted this to her. After secondary school, Blessing will graduate into the CAMFED Association, joining a sisterhood of young women who support each other, access training and resources, and commit to supporting the next generation of vulnerable children. 
You should always be willing to give back to your community. Having that sisterly love for everybody that comes your way, being able to help them in the little ways you can.